Lincoln Aviator: Voltage Converter/Inverter / Description and Operation - Direct Current/Direct Current (DC/DC) Converter Control Module - Overview
OVERVIEW

WARNING: To prevent the risk of high-voltage shock, always follow precisely all warnings and service instructions, including instructions to depower the system. The high-voltage hybrid system utilizes approximately 300 volts DC, provided through high-voltage cables to its components and modules. The high-voltage cables and wiring are identified by orange harness tape or orange wire covering. All high-voltage components are marked with high-voltage warning labels with a high-voltage symbol. Failure to follow these instructions may result in serious personal injury or death.
The DCDC is a liquid cooled component that converts high-voltage DC power from the high voltage battery to low-voltage (12 volts) DC power. The DCDC charges the 12-volt battery through the low-voltage battery cables and powers the low-voltage electrical system, this eliminates the need for a conventional engine-driven alternator. The DCDC communicates with other modules over the HS-CAN1. The DCDC is serviceable and located in the engine compartment under the RH headlamp assembly.
System Operation System Diagram - DCDC Item Description 1 Ignition Switch 2 PCM 3 SOBDMC 4 BCM 5 BECM 6 DCDC 7 High Voltage/Low Current Fuse 8 12V Battery Monitoring Sensor Network Message Chart DCDC Network Input Messages Broadcast Message Originating Module Message Purpose DCDC HEV wake up enable BECM, BCCM (battery charger control module) ( PHEV only) Command to enable the DCDC DCDC HEV wake up enable SOBDMC Hard wired command to enable the DCDC High voltage input SOBDMC Voltage measured at SOBDMC used to compare with voltage at the DCDC...
Other information:
Special Tool(s) / General Equipment 205-220Installer, Differential ShimTKIT-1985-FH Copper Hammer Removal Remove the differential housing cover. Refer to: Differential Housing Cover (205-02 Rear Drive Axle/Differential, Removal and Installation)...
Side Airbags WARNING: Do not place objects or mount equipment on or near the airbag cover, on the side of the front or rear seatbacks, or in areas that may come into contact with a deploying airbag. Failure to follow these instructions may increase the risk of personal injury in the event of a crash...
Categories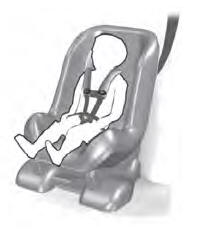 Use a child restraint (sometimes called an infant carrier, convertible seat, or toddler seat) for infants, toddlers and children weighing 40 lb (18 kg) or less (generally four-years-old or younger).
Using Lap and Shoulder Belts
WARNING: Do not place a rearward facing child restraint in front of an active airbag. Failure to follow this instruction could result in personal injury or death.