Lincoln Aviator 2020-2022 Owners Manual
Lincoln Aviator 2020-2022 Owners Manual
Owners Manual for the second generation Lincoln Aviator, a three-row mid-size luxury SUV marketed and sold by the Lincoln brand of Ford Motor Company, model years 2020-2022. We recommend that you take some time to get to know your vehicle by reading this manual. The more that you know about it, the greater the safety and pleasure you will get from driving it.

Other information:
Special Tool(s) / General Equipment 100-001 (T50T-100-A) Slide Hammer 100-002 (TOOL-4201-C) Holding Fixture with Dial Indicator Gauge 205-1018Installation Tube 307-003 (T57L-500-B) Holding Fixture, Transmission 307-091Handle, Torque ConverterTKIT-2009TC-F 307-309Remover, Torque Converter SealTKIT-1994-FMH/FLMHTKIT-1994-LMH/MHTKIT-1994-FH 307-346 (T97T-7902-A) Retainer, Torque ConverterTKIT-1998-LM (NavigatoR)TKIT-1997-F/FLM/LT 307-549Installer, Shift Shaft Fluid SealTKIT-2005D1-F1 307-5842-6 Spring CompressorTKIT-2006UF-FLMTKIT-2006UF-ROW 307-589Overdrive clutch and balance piston service setTKIT-2006UF-FLMTKIT-2006UF-ROW 307-651Bracket, Pump Remover/Installer 307-651-02Lift fixture adapter for 307-651 307-661Gauge, End PlayTKIT-2009C-FTKIT-2009C-ROW 307-661-01Spacers/Plate, Clearance Gage 307-662Gauge, Clutch Pack EndplayTKIT-2009C-FTKIT-2009C-ROW 307-691Tester, Torque Convertor Leak 307-732Tool Kit, Torque Converter Flusher 307-732-02Adapter for 307-732 Converter flushing Mandrel 307-736Installer, Pump Drive Gear Bearing 307-737Press Tool, Oil Pump Drive Idler Gear 307-741Spring Compressor, F Clutch 307-743Remover, Pump Drive Gear 307-746Remover, Transmission Wiring Harness Connector 307-780Converter Seal installer 307-782Installer, Output Shaft Seal 307-783Installer, Roll Pin 307-784One way clutch alignment tool 307-785Clutch spring compressor 307-786F7 Seal Installer/Sizer Input Shaft 307-787F8 Seal Installer/Sizer Input Shaft 307-790Endplay Check Gauge 307-796F2 Seal Guide, Installer & Sizer 307-797Installer, Alignment Studs (3) & Alignment Pin (All 10R) 307-803F1 Seal Guide, Installer & Sizer 307-804F9 Seal Guide, Installer & Sizer Rubber Mallet Hydraulic Press Punch Wooden Block Magnet Materials Name Specification Motorcraft® MERCON® ULV Automatic Transmission FluidXT-12-QULV WSS-M2C949-A, MERCON® ULV All vehicles Transmission overhaul includes the following: Complete disassembly of the transmission Cleaning and inspecting of all components Replacement of all seals, gaskets, and one time use components...
Special Tool(s) / General Equipment Interior Trim Remover Removal Release the clips and remove the insutment panel speaker grille. Use the General Equipment: Interior Trim Remover Remove the bolts and the instrument panel speaker...
Categories
When the child safety locks are set, you cannot open the rear doors from the inside.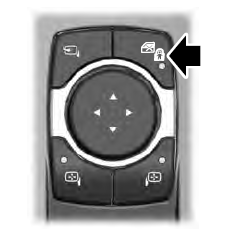 The child safety lock control is on the driver door.
Press the control to switch the child safety locks on. Press the control again to switch them off. A light on the child safety control illuminates when you switch them on.