Lincoln Aviator 2020-2021 Owners Manual
Lincoln Aviator 2020-2021 Owners Manual
Owners Manual for the second generation Lincoln Aviator, a three-row mid-size luxury SUV marketed and sold by the Lincoln brand of Ford Motor Company, model years 2020-2021. We recommend that you take some time to get to know your vehicle by reading this manual. The more that you know about it, the greater the safety and pleasure you will get from driving it.

Other information:
Item Description 1 Internal wiring harness retaining bolt 2 Internal wiring harness 3 Park lock pawl solenoid 4 Solenoid retaining plate bolts 5 Solenoid retaining plate 6 TCC solenoid 7 LPC solenoid 8 Shift solenoid retaining plate bolts 9 Shift solenoid retaining plate 10 SSD 11 SSE 12 SSB 13 SSC 14 SSF 15 SSA 16 TFT 17 Valve channel plate bolts 18 Valve channel plate 19 Lower-to-upper valve body bolts 20 Lower valve body 21 Upper valve body 22 Valve body dowel pins Lower Valve Body 1 Valve body separator plate bolts 2 Valve body separator plate 3 TCC damper 4 LPC damper assembly 5 Check valve assemblies 6 Check balls (quantity 5) 7 LPC anti-backflow valve assembly 8 TCC priority valve assembly 9 Park lock pawl valve 10 A clutch control valve 11 SSA 12 F clutch control valve 13 SSF 14 C clutch control valve 15 SSC 16 B clutch control valve 17 SSB 18 E clutch control valve 19 SSE 20 D clutch control valve 21 SSD 22 Shift solenoid retainers Upper Valve Body 1 Lube control valve assembly 2 Plug and spring assembly 3 C clutch latch valve assembly 4 B clutch latch valve assembly 5 F clutch latch valve assembly 6 A clutch latch valve assembly 7 Plug and spring assembly 8 TCC regulator valve assembly 9 Main regulator valve assembly The main control consists of a upper and lower valve body with solenoids that are controlled by a remote mounted TCM or the PCM...
Special Tool(s) / General Equipment Interior Trim Remover Removal NOTE: Removal steps in this procedure may contain installation details. Selectable Drive Mode Switch (Console rotary type) Release the retainers and remove the LH floor console side trim panel...
Categories
When the child safety locks are set, you cannot open the rear doors from the inside.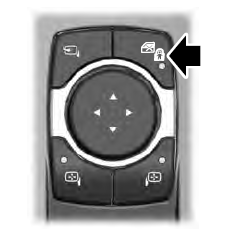 The child safety lock control is on the driver door.
Press the control to switch the child safety locks on. Press the control again to switch them off. A light on the child safety control illuminates when you switch them on.