Lincoln Aviator: Vehicle Identification
Install any devices that use radio frequency identification, for example, toll readers or vehicle identification cards, to the specified area on the windshield.
Note: Follow the manufacturer's installation instructions.
Note: When installing the radio frequency identification device, do not block objects such as the rain sensor and the auto-dimming sensor.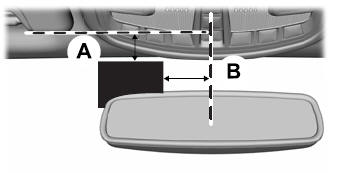 Other information:
System Operation System Diagram Item Description 1 BCM 2 Door/liftgate ajar switches 3 GWM 4 Fuel pump and sender unit 5 IPC 6 APIM 7 Washer fluid level switch 8 Message center display 9 IPMA 10 PCM 11 Engine oil pressure sensor 12 Ambient air temperature sensor 13 AWD module 14 ABS module 15 PAM 16 IPMB 17 Brake fluid level switch 18 Hood ajar switch 19 RH steering wheel switch 20 SCCM 21 SIMA 22 SODL 23 DCMG 24 DCMH 25 HCM 26 RCM 27 PSCM 28 GSM 29 SODR 30 HVAC module 31 TRM 32 DSM 33 DCME 34 DCMF Network Message Chart Module Network Input Messages - IPC Broadcast Message Originating Module Message Purpose Active park assist warning message request IPMB (with 360° camera)/ PAM (without 360° camera) Input used to display the active park assist warning message...
Battery Specifications Base and Reserve without trailer tow vehicles Item Specification Voltage 12 Volts Cold Cranking Amps (CCA) measured at -18 C (-0.4 F) 800 Cold Cranking Amps (CCA) Battery amps rating 80 Ah Battery size H7 Battery type Absorbed Glass Mat (AGM) All other vehicles Item Specification Voltage 12 Volts Cold Cranking Amps (CCA) measured at -18 C (-0...
Categories
WARNING: Do not adjust the steering wheel when your vehicle is moving.
Note: Make sure that you are sitting in the correct position.
Unlock the steering column. Adjust the steering wheel to the desired position.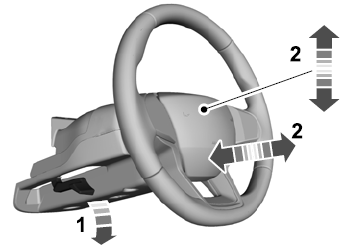 Lock the steering column.