Lincoln Aviator: Vehicle Identification
Install any devices that use radio frequency identification, for example, toll readers or vehicle identification cards, to the specified area on the windshield.
Note: Follow the manufacturer's installation instructions.
Note: When installing the radio frequency identification device, do not block objects such as the rain sensor and the auto-dimming sensor.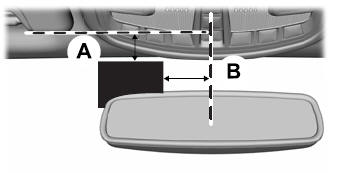 Other information:
System Operation System Diagram Item Description 1 BCM 2 IPC 3 Passive Key 4 RTM 5 GWM 6 GWM 7 PATS Center Antenna 8 Keyless Entry Rear Antenna 9 Ignition Switch 10 Front Door Keyless Entry Antenna(s) 11 PATS Enable 12 PCM 13 ABS 14 SOBDMC 15 Hybrid Vehicles Network Message Chart BCM Network Input Messages Broadcast Message Originating Module Message Purpose PATS start request target data PCM The PCM sends the BCM and the ABS module a challenge request for a valid ID...
Recycled Coolant We do not recommend the use of recycled coolant as an approved recycling process is not yet available. Note: Dispose of used coolant in the appropriate manner. Follow your community's regulations and standards for recycling and disposing of automotive fluids...
Categories
WARNING: Do not adjust the steering wheel when your vehicle is moving.
Note: Make sure that you are sitting in the correct position.
Unlock the steering column. Adjust the steering wheel to the desired position.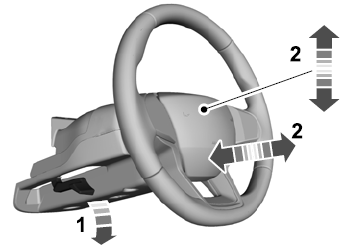 Lock the steering column.