Lincoln Aviator: Adaptive Cruise Control / Switching Adaptive Cruise Control On and Off
The cruise controls are on the steering wheel.
Switching Adaptive Cruise Control On

Press the button to set the system in standby mode.
The indicator, current gap setting and set speed appear in the information display.
Switching Adaptive Cruise Control Off

Press the button when the system is in standby mode, or switch the ignition off.
Note: You erase the set speed when you switch the system off.
Automatic Cancellation or Deactivation
The system may cancel if:
The tires lose traction.
You apply the parking brake.
The system may cancel and set the parking brake if:
You unbuckle the seatbelt and open the driver door after you stop your vehicle.
Your vehicle is at a stop continuously for more than three minutes.
The system may deactivate or prevent activating when requested if:
The vehicle has a blocked sensor.
The brake temperature is too high.
There is a failure in the system or a related system.
Categories
When the child safety locks are set, you cannot open the rear doors from the inside.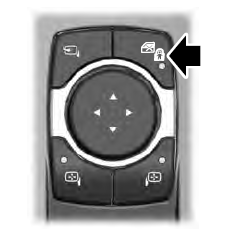 The child safety lock control is on the driver door.
Press the control to switch the child safety locks on. Press the control again to switch them off. A light on the child safety control illuminates when you switch them on.