Lincoln Aviator: Starting and Stopping the Engine / Starting a Hybrid Electric Vehicle System
Before starting your vehicle, check the following:
Make sure all occupants fasten their seatbelt.
Make sure the headlamps and electrical accessories are off.
Make sure the parking brake is on.
Put the transmission in park (P).
Note: Do not touch the accelerator pedal.
Fully press the brake pedal.
Press the push button ignition switch.
Note: The green ready indicator illuminates letting you know that your vehicle is ready for driving. Since your vehicle comes with a silent key start, the engine may not start when your vehicle starts.
When the engine starts for the first time on your drive, the idle speed increases, this helps to warm up the engine. If the engine idle speed does not slow down automatically, have your vehicle checked by an authorized dealer.
The system does not function if:
The passive key frequencies are jammed.
The key battery has no charge.
If you are unable to start your vehicle, do the following: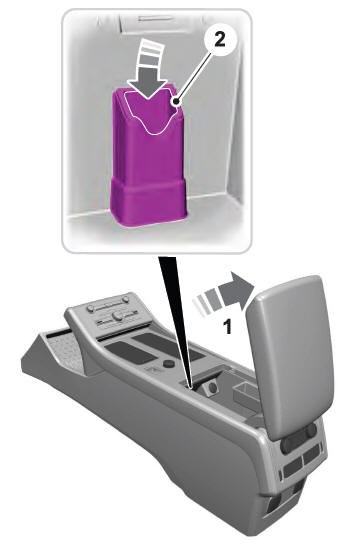 Open the floor console storage compartment lid.
Insert the passive key into the backup slot.
With the key in this position, press the brake pedal then press the push button ignition switch to switch the ignition on and start your vehicle.