Lincoln Aviator: Starting a Hybrid Electric Vehicle System / Automatic Engine Shutdown. Automatic Engine Shutdown Override
Automatic Engine Shutdown
For vehicles with a keyless ignition, this feature automatically shuts down the engine if it has been idling for an extended period. The ignition also turns off in order to save battery power. Before your vehicle shuts down, a message appears in the information display showing a timer counting down from 30 seconds. If you do not intervene within 30 seconds, your vehicle shuts down. Another message appears in the information display to inform you that your vehicle has shut down to save fuel. Start your vehicle as you normally do.
Note: Automatic Engine Shutdown may be more frequent for hybrid vehicles.
Automatic Engine Shutdown Override
Note: You cannot permanently switch off the automatic shutdown feature. When you switch it off temporarily, it turns on at the next ignition cycle.
You can stop the shutdown, or reset the timer, at any point before the 30-second countdown has expired by doing any of the following:
You can reset the timer by interacting with your vehicle, for example pressing the brake or accelerator pedal.
You can temporarily switch off the shutdown feature any time the ignition is on using the information display. The feature only remains off for the current ignition cycle.
During the 30-second countdown, the system prompts you to press OK or RESET to temporarily switch the feature off for the current ignition cycle only.
Note: In order to use the Backup Start Passcode feature, Phone as a Key must be active and enabled on at least one phone. If you are unable to start your vehicle, do the following: Fully depress the brake pedal...
Put the transmission in park (P). Press the push button ignition switch once. Apply the parking brake. Note: This switches off the ignition, warning lamps and indicators...
Other information:
Special Tool(s) / General Equipment MIG/MAG Welding Equipment Spot Weld Drill Bit Materials Name Specification Seam SealerTA-2-B, 3M™ 08308, LORD Fusor® 803DTM - Removal WARNING: Electric vehicles damaged by a crash may have compromised high voltage safety systems and present a potential high voltage electrical shock hazard...
C..
Categories
Passive Key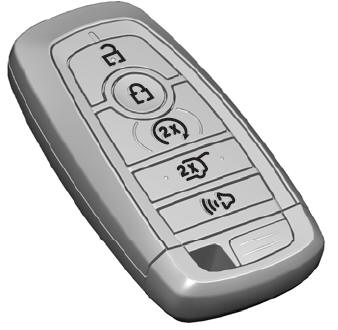 The passive key operates the power locks and the remote start system. The passive key must be in your vehicle to use the push button start.
Note: You may not be able to shift out of park (P) unless the passive key is inside your vehicle.