Lincoln Aviator: Rear View Camera / Using the Rear View Camera System
The rear view camera system displays what is behind your vehicle when you place the transmission in reverse (R).
Note: The reverse sensing system is not effective at speeds above 3 mph (5 km/h) and may not detect certain angular or moving objects.
The system uses three types of guides to help you see what is behind your vehicle:
Active guidelines (if equipped): Show the intended path of your vehicle when reversing.
Fixed guidelines: Show the actual path your vehicle is moving in while reversing in a straight line. This can be helpful when backing into a parking space or aligning your vehicle with another object behind you.
Centerline: Helps align the center of your vehicle with an object (for example, a trailer).
Note: If the transmission is in reverse (R) and the luggage compartment door is open, no rear view camera features display.
Note: When towing, the camera only sees what you are towing. This might not provide adequate coverage as it usually provides in normal operation and some objects might not be seen. In some vehicles, the guidelines may disappear when you connect the trailer tow connector.
The camera may not operate correctly under the following conditions:
Nighttime or dark areas if one or both reverse lamps are not operating.
Mud, water or debris obstructs the camera's view. Clean the lens with a soft, lint-free cloth and non-abrasive cleaner. You can also use the rear washer to clean the camera.
The rear of your vehicle is hit or damaged, causing the camera to become misaligned.
Camera System Settings
Depending on your vehicle options, the rear view camera system settings may be in the following:
Information display.
Touchscreen.
Note: Active guidelines are only available when the transmission is in reverse (R).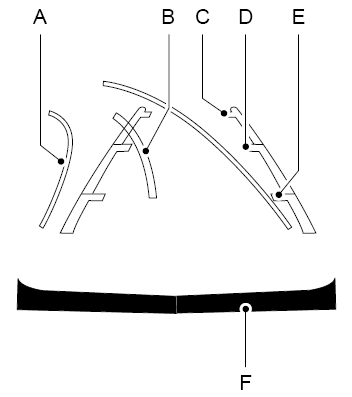 Active guidelines (If equipped)
Centerline
Fixed guideline: Green zone
Fixed guideline: Yellow zone
Fixed guideline: Red zone
Rear bumper
Active guidelines are only shown with fixed guidelines. To use active guidelines, turn the steering wheel to point the guidelines toward an intended path. If you change the steering wheel position while reversing, your vehicle might deviate from the original intended path.
The fixed and active guidelines fade in and out depending on the steering wheel position. The active guidelines do not display when the steering wheel position is straight.
Always use caution while reversing. Objects in the red zone are closest to your vehicle and objects in the green zone are farther away. Objects are getting closer to your vehicle as they move from the green zone to the yellow or red zones. Use the side view mirrors and rear view mirror to get better coverage on both sides and rear of the vehicle.