Lincoln Aviator: Keys and Remote Controls / Remote Control
Passive Key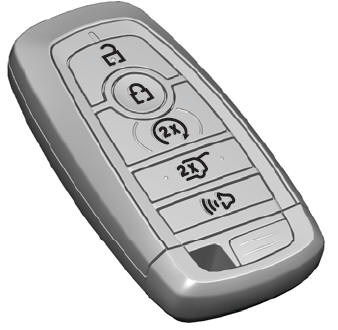 The passive key operates the power locks and the remote start system. The passive key must be in your vehicle to use the push button start.
Note: You may not be able to shift out of park (P) unless the passive key is inside your vehicle.
Note: If the passive key remains motionless for 40 or more seconds, you need to move the passive key for passive entry to operate. If the passive key remains motionless for 8 or more hours, you need to move the passive key for push button start to operate.
Note: Your vehicle keys come with a security label that provides important key cut information. Keep the label in a safe place for future reference.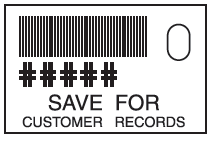 This device complies with Part 15 of the FCC Rules and with Industry Canada license-exempt RSS standard(s). Operation is subject to the following two conditions: (1) This device may not cause harmful interference, and (2) This device must accept any interference received, including interference that may cause undesired operation...
Other information:
Special Tool(s) / General Equipment Resistance Spotwelding Equipment Spherical Cutter Grinder Plasma Cutter Air Body Saw 8 mm Drill Bit MIG/MAG Welding Equipment Spot Weld Drill Bit Materials Name Specification Metal Bonding AdhesiveTA-1, TA-1-B, 3M™ 08115, LORD Fusor® 108B - Seam SealerTA-2-B, 3M™ 08308, LORD Fusor® 803DTM - Motorcraft® Metal Surface Prep WipesZC-31-B - Repair NOTE: Weld Bonding-Squeeze Type Resistance Spot Welding (STRW) Method...
Note: Do not apply sudden excessive force to the liftgate while it is in motion. This could damage the power liftgate and its components. You can stop the liftgate movement by doing any of the following: Pressing the liftgate control button. Pressing the liftgate button on the remote control twice...
Categories
The intelligent access key must be within 3 ft (1 m) of the door or luggage compartment you intend to lock or unlock.
At a Door
Electronic door handles are on each door. Gently depress the switch inside the exterior door handle to unlock and open the door. An unlock symbol illuminates on the door window trim indicating your vehicle is unlocked.