Lincoln Aviator: Keys and Remote Controls / Remote Control
Passive Key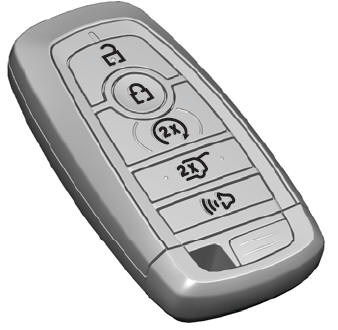 The passive key operates the power locks and the remote start system. The passive key must be in your vehicle to use the push button start.
Note: You may not be able to shift out of park (P) unless the passive key is inside your vehicle.
Note: If the passive key remains motionless for 40 or more seconds, you need to move the passive key for passive entry to operate. If the passive key remains motionless for 8 or more hours, you need to move the passive key for push button start to operate.
Note: Your vehicle keys come with a security label that provides important key cut information. Keep the label in a safe place for future reference.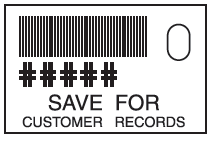 This device complies with Part 15 of the FCC Rules and with Industry Canada license-exempt RSS standard(s). Operation is subject to the following two conditions: (1) This device may not cause harmful interference, and (2) This device must accept any interference received, including interference that may cause undesired operation...
Other information:
Removal NOTE: Removal steps in this procedure may contain installation details. Remove the RH loadspace trim panel. Refer to: Loadspace Trim Panel (501-05 Interior Trim and Ornamentation, Removal and Installation). Disconnect the electrical connector...
System Operation System Diagram - Networked Illumination - Doors NOTE: Not all vehicles come equipped with all the items listed below. The door latch modules are identified as follows: Left front door - DCME Right front door - DCMF Left rear door - DCMG Right rear door - DCMH Item Description 1 MS-CAN 2 DCME 3 Light sensor 4 DCMF 5 DCMH 6 DDM 7 PDM 8 RF door lock switch 9 RF door window control switch 10 LF door window control switch 11 RR door window control switch 12 LR door window control switch 13 LF door lock switch 14 RR door lock switch 15 LR door lock switch 16 GWM 17 DCMG 18 LH front interior door latch switch 19 RH front interior door latch switch 20 LH rear interior door latch switch 21 RH rear interior door latch switch 22 LIN 23 LIN 24 HS-CAN1 25 BCM 26 Dimmer switch 27 Headlamp switch System Diagram - Networked Illumination - Steering Wheel Switches Item Description 1 Light sensor 2 RH lower steering wheel switch 3 RH upper steering wheel switch 4 LH lower steering wheel switch 5 LH upper steering wheel switch 6 SIMA 7 Upshift paddle switch 8 Downshift paddle switch 9 HS-CAN2 10 GWM 11 HS-CAN1 12 LIN 13 BCM 14 Dimmer switch 15 Headlamp switch System Diagram - Networked Illumination - Other Modules Item Description 1 FCIM 2 APIM 3 Light sensor 4 ACM 5 IPC 6 FDIM 7 without Touchscreen 8 FCDIM 9 RHVAC 10 RACM 11 LIN 12 HS-CAN1 13 MS-CAN 14 HS-CAN3 15 GWM 16 Dimmer switch 17 Headlamp switch 18 BCM Network Message Chart Module Network Input Messages - ACM, APIM, DCME, DCMF, DCMG, DCMH, DDM, FCIM, RACM, RHVAC, SIMA, GWM, IPC and PDM...
Categories
The intelligent access key must be within 3 ft (1 m) of the door or luggage compartment you intend to lock or unlock.
At a Door
Electronic door handles are on each door. Gently depress the switch inside the exterior door handle to unlock and open the door. An unlock symbol illuminates on the door window trim indicating your vehicle is unlocked.