Lincoln Aviator: Remote Control / Extending the Engine Running Time. Turning Your Vehicle Off After Remote Starting. Memory Feature
Extending the Engine Running Time
To extend the engine running time duration of your vehicle during remote start, repeat steps 1 and 2 while the engine is running. If the duration is set to 15 minutes, the duration extends by another 15 minutes. For example, if your vehicle had been running from the first remote start for 5 minutes, your vehicle continues to run now for a total of 30 minutes. You can extend the engine running time duration to a maximum of 30 minutes.
Wait at least five seconds before remote starting after the engine stops running.
Turning Your Vehicle Off After Remote Starting

Press the button once. Your vehicle and the parking lamps turn off.
Due to ground reflection and the added noise of your vehicle running, you might need to move closer to the vehicle when using remote start to switch it on or off. You can switch this feature on or off using the touchscreen.
Memory Feature
You can program your passive key to recall memory positions.
Remote Control Feedback An LED on the remote control provides status feedback of remote start or stop commands. Remote Starting Your Vehicle Press the lock button to lock all the doors...
Other information:
Check WARNING: Invisible ultraviolet and infrared rays emitted in welding can injure unprotected eyes and skin. Always use protection such as a welder's helmet with dark-colored filter lenses of the correct density. Electric welding will produce intense radiation, therefore, filter plate lenses of the deepest shade providing adequate visibility are recommended...
Sport utility vehicles and trucks can differ from some other vehicles in a few noticeable ways. Your vehicle could be: Higher - to allow higher load carrying capacity and to allow it to travel over rough terrain without getting hung up or damaging underbody components...
Categories
When the child safety locks are set, you cannot open the rear doors from the inside.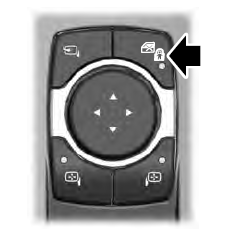 The child safety lock control is on the driver door.
Press the control to switch the child safety locks on. Press the control again to switch them off. A light on the child safety control illuminates when you switch them on.