Lincoln Aviator: Remote Control / Remote Control Feedback. Remote Starting Your Vehicle
Remote Control Feedback
An LED on the remote control provides status feedback of remote start or stop commands.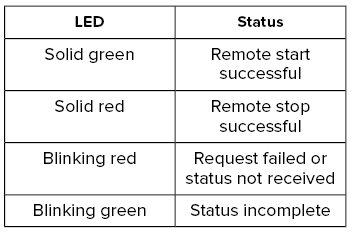 Remote Starting Your Vehicle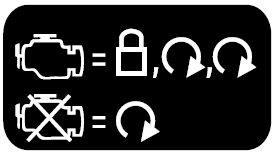 Press the lock button to lock all the doors.
Press the remote start button twice. The exterior lamps flash twice.
A tone sounds if the system fails to start.
Note: You must press each button within three seconds of each other. If you do not follow this sequence, your vehicle does not start remotely, the direction indicators do not flash twice and the horn does not sound.
Note: Press the push button ignition switch on the instrument panel as you apply the brake pedal before driving your vehicle.
The power windows do not work during remote start and the radio does not turn on.
The parking lamps remain on and your vehicle runs for 5, 10 or 15 minutes, depending on the setting.