Lincoln Aviator: Starting a Gasoline Engine / Guarding Against Exhaust Fumes. Important Ventilating Information
Guarding Against Exhaust Fumes
WARNING: Exhaust leaks may result in entry of harmful and potentially lethal fumes into the passenger compartment. If you smell exhaust fumes inside your vehicle, have your vehicle inspected immediately. Do not drive if you smell exhaust fumes.
Important Ventilating Information
If you stop your vehicle and then leave the engine idling for long periods, we recommend that you do one of the following:
Open the windows at least 1 in (3 cm).
Set your climate control to outside air.
Categories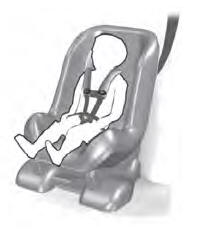 Use a child restraint (sometimes called an infant carrier, convertible seat, or toddler seat) for infants, toddlers and children weighing 40 lb (18 kg) or less (generally four-years-old or younger).
Using Lap and Shoulder Belts
WARNING: Do not place a rearward facing child restraint in front of an active airbag. Failure to follow this instruction could result in personal injury or death.