Lincoln Aviator: Driving Aids / Using Driver Alert
Switching the System On and Off
Switch the system on or off using the information display.
When active, the system monitors your alertness level based upon your driving behavior in relation to the lane markings, and other factors.
System Warnings
Note: The system does not issue warnings below approximately 40 mph (64 km/h).
Note: If you receive a warning you should consider resting, even if the current assessment is within the typical range.
The warning system has two stages. At first, the system issues a temporary warning that you need to take a rest. This message only appears for a short time. If the system detects further reduction in driving alertness, it may issue another warning that remains in the information display for a longer time. You can press OK on the steering wheel control to clear the warning.
Resetting the System
You can reset the system by either:
Switching the ignition off and on.
Stopping the vehicle and then opening and closing the driver's door.
Categories
WARNING: Do not adjust the steering wheel when your vehicle is moving.
Note: Make sure that you are sitting in the correct position.
Unlock the steering column. Adjust the steering wheel to the desired position.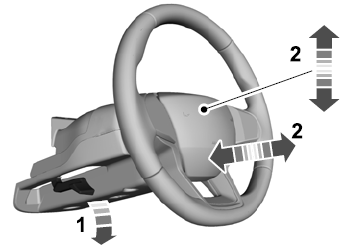 Lock the steering column.