Lincoln Aviator: Wipers and Washers / Rear Window Wiper and Washers
Rear Window Wiper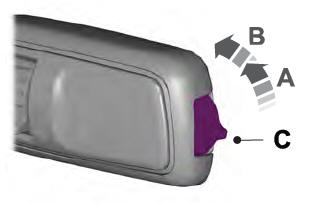 Intermittent wipe.
Continuous wipe.
Rear window wiper off.
Depending on your vehicle, when you switch on the front wipers and move the gearshift lever to reverse (R), the rear intermittent wipe may turn on.
Note: Make sure you switch the rear window wiper off before entering a car wash.
Rear Window Washer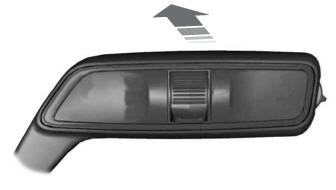 Push the lever away from you to operate the rear window washer. When you release the lever, the wipers operate for a short time.
Do not operate the washers when the washer reservoir is empty. This could cause the washer pump to overheat.
Pull the lever toward you to operate the windshield washers. When you release the lever, the wipers operate for a short time. When activated, a courtesy wipe occurs a short time after the wipers stop to clear any remaining washer fluid...
Other information:
WARNING: Always fully apply the parking brake and make sure you shift into park (P). Failure to follow this instruction could result in personal injury or death. WARNING: Do not apply the brake pedal and accelerator pedal simultaneously. Applying both pedals simultaneously for more than a few seconds will limit engine performance, which may result in difficulty maintaining speed in traffic and could lead to serious injury...
WARNING: Airbags do not inflate slowly or gently, and the risk of injury from a deploying airbag is the greatest close to the trim covering the airbag module. WARNING: All occupants of your vehicle, including the driver, should always properly wear their seatbelts, even when an airbag supplemental restraint system is provided...
Categories
The intelligent access key must be within 3 ft (1 m) of the door or luggage compartment you intend to lock or unlock.
At a Door
Electronic door handles are on each door. Gently depress the switch inside the exterior door handle to unlock and open the door. An unlock symbol illuminates on the door window trim indicating your vehicle is unlocked.