Lincoln Aviator: Supplementary Restraints System / Safety Canopy™
WARNING: Do not place objects or mount equipment on or near the headliner at the siderail that may come into contact with a deploying curtain airbag. Failure to follow these instructions may increase the risk of personal injury in the event of a crash.
WARNING: Do not lean your head on the door. The curtain airbag could injure you as it deploys from the headliner.
WARNING: Do not attempt to service, repair, or modify the supplementary restraint system or associated components. Failure to follow this instruction could result in personal injury or death.
WARNING: All occupants of your vehicle, including the driver, should always properly wear their seatbelts, even when an airbag supplemental restraint system is provided. Failure to properly wear your seatbelt could seriously increase the risk of injury or death.
WARNING: To reduce risk of injury, do not obstruct or place objects in the deployment path of the airbag.
WARNING: If a supplementary restraint system component has deployed, it will not function again. Have the system and associated components inspected as soon as possible. Failure to follow this instruction could result in personal injury or death.
The Safety Canopy will deploy during significant side crashes or when a certain likelihood of a rollover event is detected by the rollover sensor. The Safety Canopy is mounted to the roof side-rail sheet metal, behind the headliner, above each row of seats. In certain sideways crashes or rollover events, the Safety Canopy will be activated, regardless of which seats are occupied. The Safety Canopy is designed to inflate between the side window area and occupants to further enhance protection provided in side impact crashes and rollover events.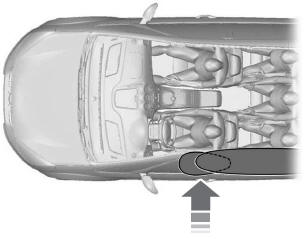 The system consists of the following:
Safety canopy curtain airbags above the trim panels over the front and rear side windows identified by a label or wording on the headliner or roof-pillar trim.
A flexible headliner which opens above the side doors to allow air curtain deployment
Crash sensors and monitoring system with readiness indicator.
Always properly restrain children 12 years old and under in the rear seats. The Safety Canopy will not interfere with children restrained using a properly installed child or booster seat because it is designed to inflate downward from the headliner above the doors along the side window opening.
The design and development of the Safety Canopy included recommended testing procedures that were developed by a group of automotive safety experts known as the Side Airbag Technical Working Group. These recommended testing procedures help reduce the risk of injuries related to the deployment of side airbags (including the Safety Canopy).