Lincoln Aviator: Vehicle Dynamic Suspension / Description and Operation - Vehicle Dynamic Suspension - Vehicles With: Air Suspension - Component Location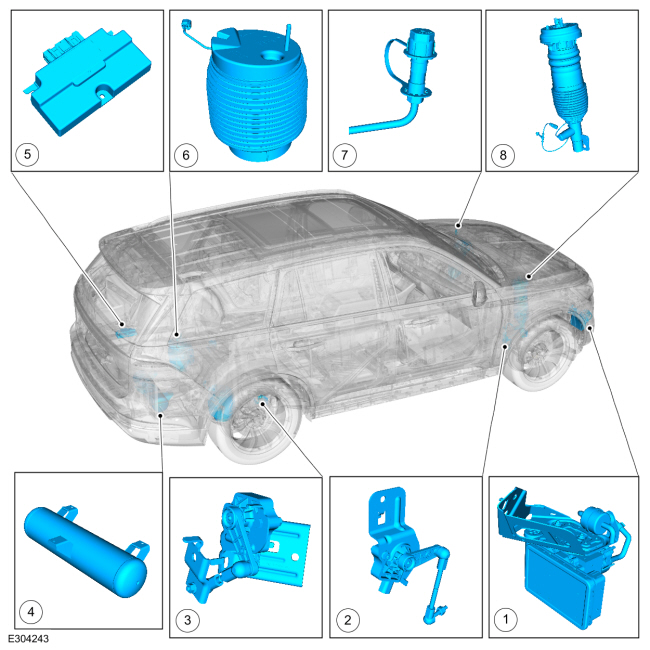 | Item | Description |
| --- | --- |
| 1 | SUMA and Air Suspension Compressor Assembly. |
| 2 | Front height sensor (2 required) |
| 3 | Rear height sensor (2 required) |
| 4 | Air reservoir |
| 5 | VDM |
| 6 | Rear air spring (2 required) |
| 7 | Air system fill port |
| 8 | Front shock absorber and air spring assembly (2 required) |
System Operation System Diagram Item Description 1 VDM 2 LH front valve solenoid 3 PSCM 4 PCM 5 ABS module 6 LH front height sensor 7 RH front height sensor 8 LH rear height sensor 9 RH rear height sensor 10 BCM 11 RH front valve solenoid 12 LH rear valve solenoid 13 RH rear valve solenoid 14 IPC 15 RCM 16 GWM Network Message Chart Module Network Input Messages - VDM Broadcast Message Originating Module Message Purpose ABS active ABS module Indicates the current ABS activity, on or off...
Other information:
Each door has a backup power system which allows the door to function if your vehicle has no power. The system has a limited number of operations before the power is depleted and turns off. When the system turns off, the door remains open and unlatched and does not close...
Special Tool(s) / General Equipment Vehicle/Axle Stands Removal NOTICE: Suspension fasteners are critical parts that affect the performance of vital components and systems. Failure of these fasteners may result in major service expense...
Categories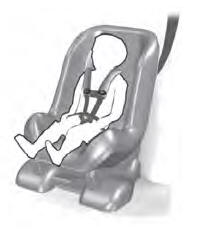 Use a child restraint (sometimes called an infant carrier, convertible seat, or toddler seat) for infants, toddlers and children weighing 40 lb (18 kg) or less (generally four-years-old or younger).
Using Lap and Shoulder Belts
WARNING: Do not place a rearward facing child restraint in front of an active airbag. Failure to follow this instruction could result in personal injury or death.