Lincoln Aviator: Maintenance / General Information
Have your vehicle serviced regularly to help maintain its roadworthiness and resale value. There is a large network of authorized dealers that are there to help you with their professional servicing expertise. We believe that their specially trained technicians are best qualified to service your vehicle properly and expertly. They are supported by a wide range of highly specialized tools developed specifically for servicing your vehicle.
If your vehicle requires professional service, an authorized dealer can provide the necessary parts and service. Check your warranty information to find out which parts and services are covered.
Use only recommended fuels, lubricants, fluids and service parts conforming to specifications. Motorcraft® parts are designed and built to provide the best performance in your vehicle.
Precautions
Do not work on a hot engine.
Make sure that nothing gets caught in moving parts.
Do not work on a vehicle with the engine running in an enclosed space, unless you are sure you have enough ventilation.
Keep all open flames and other burning material (such as cigarettes) away from the battery and all fuel related parts.
Working with the Engine Off
Set the parking brake and shift the transmission to park (P).
Switch off the engine.
Block the wheels.
Working with the Engine On
WARNING: To reduce the risk of vehicle damage and personal burn injuries, do not start your engine with the air cleaner removed and do not remove it while the engine is running.
Set the parking brake and shift the transmission to park (P).
Block the wheels.
Opening the Hood Open the left-hand front door. Fully pull the hood release lever and let it completely retract.Note: This action releases the hood latch...
Other information:
Special Tool(s) / General Equipment 292-00004Fuel Tanker 100 GPM Draining WARNING: Before beginning any service procedure in this section, refer to Safety Warnings in section 100-00 General Information. Failure to follow this instruction may result in serious personal injury...
Special Tool(s) / General Equipment 204-592Separator, Lower Arm Ball JointTKIT-2006C-FFMFLMTKIT-2006C-LMTKIT-2006C-ROW Removal NOTICE: Suspension fasteners are critical parts that affect the performance of vital components and systems...
Categories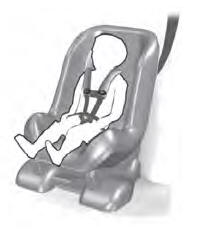 Use a child restraint (sometimes called an infant carrier, convertible seat, or toddler seat) for infants, toddlers and children weighing 40 lb (18 kg) or less (generally four-years-old or younger).
Using Lap and Shoulder Belts
WARNING: Do not place a rearward facing child restraint in front of an active airbag. Failure to follow this instruction could result in personal injury or death.