Lincoln Aviator: MyKey™ / Checking MyKey System Status and Using MyKey With Remote Start Systems
Checking MyKey System Status
You can find information about your programmed MyKeys by using the touchscreen.
MyKey Distance
Tracks the distance when drivers use a MyKey. The only way to delete the accumulated distance is by using an admin key to clear all MyKeys. If the distance does not accumulate as expected, then the intended user is not using the MyKey, or an admin key user recently cleared and then recreated a MyKey.
Number of MyKeys
Indicates the number of MyKeys you have programmed to your vehicle. Use this feature to detect how many MyKeys you have for your vehicle and determine when you have deleted all MyKeys.
Number of Admin Keys
Indicates how many admin keys you have programmed to your vehicle. Use this feature to determine how many admin keys you have for your vehicle, and detect if an additional MyKey has been programmed.
Using MyKey With Remote Start Systems
MyKey is not compatible with non Ford-approved, aftermarket remote start systems. If you choose to install a remote start system, see an authorized dealer for a Ford-approved remote start system.
Creating a MyKey Use the touchscreen to create a MyKey: Insert the key you want to program into the ignition. If your vehicle has a push-button start, place the remote control into the backup slot...
Other information:
Overview Item Description 1 Transmission fluid pump drive gear 2 Transmission fluid pump idler gear 3 Transmission fluid pump assembly 4 Transmission fluid filter The transmission fluid in the sump area at the bottom of the transmission case flows through a transmission fluid filter to the pump assembly...
C..
Categories
Passive Key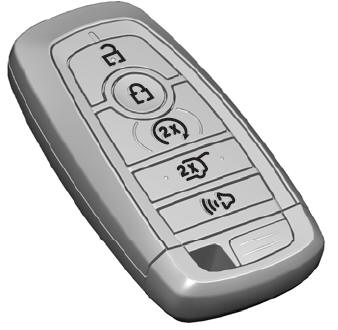 The passive key operates the power locks and the remote start system. The passive key must be in your vehicle to use the push button start.
Note: You may not be able to shift out of park (P) unless the passive key is inside your vehicle.