Lincoln Aviator: Network Connectivity / Connecting the Vehicle to a Mobile Network
What Is the Modem
The modem allows you to connect your vehicle to the Internet to use when you are on the road.
If you enable the modem using the Lincoln Way app, you can access the following services:
Locating and remotely starting, locking and unlocking your vehicle. See the information in the Lincoln Way app.
Automatic system updates.
Note: We may need to update operating system software on your vehicle to keep connected services updated without prior notice to you.
Enabling the Modem Using The Lincoln Way
Open the Lincoln Way app on your device and log in.
Select your vehicle.
Select the option for vehicle details.
Select the option to activate your vehicle.
Switch the ignition on.
Make sure that the name on the screen matches the name shown in your Lincoln Way account.
Confirm the association of your vehicle with your Lincoln Way account.
Enabling the Modem Using the Touchscreen

Select the settings option on the feature bar.
Select Lincoln Connect.
Select Connectivity Settings.
Switch connectivity features on.
Other information:
California Civil Code Section 1793.2(d) requires that, if a manufacturer or its representative is unable to repair a motor vehicle to conform to the vehicle's applicable express warranty after a reasonable number of attempts, the manufacturer shall be required to either replace the vehicle with one substantially identical or repurchase the vehicle and reimburse the buyer in an amount equal to the actual price paid or payable by the consumer (less a reasonable allowance for consumer use)...
System Operation System Diagram Item Description 1 HVAC control module 2 Rear air distribution door actuator 3 Rear temperature door actuator 4 Rear blower motor relay 5 Rear blower motor speed control 6 Rear blower motor 7 Rear air discharge temperature sensor 8 Rear temperature sensor - Second Row 9 Rear footwell air discharge temperature sensor 10 Rear temperature sensor - Third Row 11 IPC 12 GWM 13 FCIMB 14 RACM (Rear Touch screen) 15 APIM ( FDIM Touch Screen) 16 RHVAC control module (Rear Non touch screen) Network Message Charts Module Network Input Messages - APIM Broadcast Message Originating Module Message Purpose Climate control button status HVAC control module This message contains the HVAC climate control settings for the touch screen display...
Categories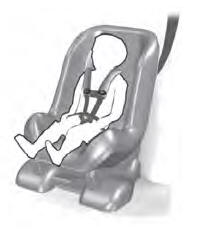 Use a child restraint (sometimes called an infant carrier, convertible seat, or toddler seat) for infants, toddlers and children weighing 40 lb (18 kg) or less (generally four-years-old or younger).
Using Lap and Shoulder Belts
WARNING: Do not place a rearward facing child restraint in front of an active airbag. Failure to follow this instruction could result in personal injury or death.