Lincoln Aviator: Wheels and Tires / Using Snow Chains
WARNING: Do not exceed 30 mph (50 km/h). Failure to follow this instruction could result in the loss of control of your vehicle, personal injury or death.
WARNING: Do not use snow chains on snow-free roads.
WARNING: Only fit snow chains to specified tires.
WARNING: If your vehicle is fitted with wheel trims, remove them before fitting snow chains.
WARNING: Wheels and tires must be the same size, load index and speed rating as those originally fitted on the vehicle. Use of any other tire or wheel can affect the safety and performance of your vehicle. Additionally, the use of non-recommended tires and wheels can cause steering, suspension, axle, transfer case or power transfer unit failure. Follow the recommended tire inflation pressures found on the Safety Compliance Certification label, or the Tire Label on the B-Pillar or the edge of the driver door. Failure to follow this instruction could result in loss of vehicle control, vehicle rollover, or personal injury or death.
Only use snow chains on rear wheels. Install snow chains in pairs. Do not use self-tensioning snow chains.
Only use snow chains on the following specified tire sizes:
255/60R19

Only install chains that are 10 mm or less.

255/55R20

Only install chains that are 10 mm or less.
We recommend you use steel wheels of the same size and specification if snow chains are required because chains may chip aluminum wheels.
Follow these guidelines when using snow tires and traction devices:
If possible, avoid fully loading your vehicle.
Purchase snow chains from a manufacturer that clearly labels body to tire dimension restrictions.
When driving with snow chains do not exceed 30 mph (50 km/h) or the maximum speed recommended by the chain manufacturer, whichever is less.
Drive cautiously. If you hear the snow chains rub or bang against the vehicle, stop and tighten them. If this does not work, remove the snow chains to prevent vehicle damage.
Remove the snow chains when they are no longer needed. Do not use snow chains on dry roads.
If a temporary spare wheel is mounted on your vehicle, do not use snow chains on the axle with the temporary spare wheel.
Use snow chains that fit against the sidewall of the tire to prevent the chains from touching the wheel rims or suspension, see following illustration.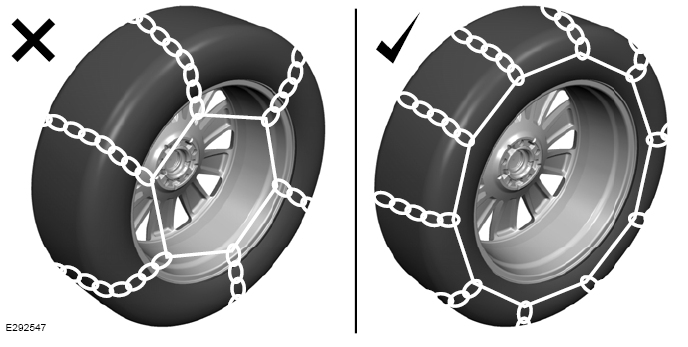 If you have any questions regarding snow chains, please contact your authorized dealer.
Summer tires provide superior performance on wet and dry roads. Summer tires do not have the Mud and Snow (M+S or M/S) tire traction rating on the tire side wall...
WARNING: The tire pressure monitoring system is not a substitute for manually checking tire pressures. You should periodically check tire pressures using a pressure gauge...
Other information:
Overview The second row climate control system has components located in the center lower section of the climate control housing and floor console. The temperature and controls breakdown for the HVAC system is as follows, the first row driver, first row passenger, second row seating temperature and third row seating temperature...
O..