Lincoln Aviator: Interior Air Quality / What Is Auto Air Refresh (If Equipped)
Auto Air Refresh helps improve or maintain the quality of air within your vehicle cabin.
How Does Auto Air Refresh Work?
Auto Air Refresh uses an outside gases sensor to automatically adjust the climate control system to change from outside air to recirculated air to help reduce the entry of outside odors into the cabin. It uses a particulate matter sensor in the cabin to estimate and provide information about particulate matter pollution in the cabin. It also allows you to refresh the cabin air with outside air on-demand or automatically.
Categories
WARNING: Do not adjust the steering wheel when your vehicle is moving.
Note: Make sure that you are sitting in the correct position.
Unlock the steering column. Adjust the steering wheel to the desired position.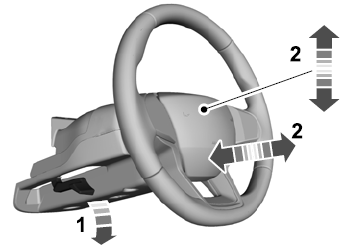 Lock the steering column.