Lincoln Aviator: Liftgate / Hands-Free Feature (If Equipped)
Make sure you have the passive key within 3 ft (1 m) of the liftgate.
Stand behind your vehicle, and face the liftgate.
Move your foot, in a single-kick motion, without pausing, under and away from the rear bumper detection area.

The liftgate opens or closes.
Avoid the following actions when using the hands-free opening feature:
Making physical contact with the bumper.
Holding your foot under the bumper.
Sweeping your foot from side to side, or kicking at an odd angle.
Detection Zones
Vehicles Without a Trailer Hitch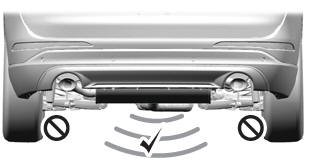 The detection area is in the center of the rear bumper.
Vehicles With a Trailer Hitch
The detection area is on the left-hand side and right-hand side of the hitch, between the exhaust and the hitch.
Note: Allow the power system to open the liftgate. Manually pushing or pulling the liftgate could activate the system's obstacle detection feature and stop the power operation or reverse its direction, replicate a strut failure, or damage mechanical components.
Note: Any physical actions that mimic a kicking motion such as splashing water, trailer chains or vacuum hoses could cause the hands-free liftgate to activate. Switch the power liftgate off through your vehicle settings or keep the passive key away from the rear bumper detection area.
Obstacle Detection Note: Entering your vehicle while the liftgate is closing can cause your vehicle to bounce and activate obstacle detection. To prevent this, let the power liftgate close completely before you enter your vehicle...
Other information:
Condensation in the Exterior Front Lamps and Rear Lamps Exterior front lamps and rear lamps have vents to accommodate normal changes in air pressure. Condensation can be a natural by-product of this design. When moist air enters the lamp assembly through the vents, there is a possibility that condensation can occur when the temperature is cold...
Special Tool(s) / General Equipment Electronic Leak Detector Inspection NOTE: Use a Rotunda-approved Electronic Leak Detector for R-134a refrigerant SAE Certified to J2791. NOTE: Good ventilation is necessary in the area where electronic A/C leak testing is to be carried out...