Lincoln Aviator: All-Wheel Drive / Operating ALL-Wheel drive (AWD) Vehicles with Mismatched Tires
WARNING: Only use replacement tires and wheels that are the same size, load index, speed rating and type (such as P-metric versus LT-metric or all-season versus all-terrain) as those originally provided by Ford. The recommended tire and wheel size may be found on either the Safety Compliance Certification Label (affixed to either the door hinge pillar, door-latch post, or the door edge that meets the door-latch post, next to the driver's seating position), or the Tire Label which is located on the B-Pillar or edge of the driver's door. If this information is not found on these labels, then you should contact your authorized dealer as soon as possible. Use of any tire or wheel not recommended by Ford can affect the safety and performance of your vehicle, which could result in an increased risk of loss of vehicle control, vehicle rollover, personal injury and death.
Major dissimilar tire sizes between the front and rear axles (for example, 17 inch low profile tires on the front axle and 22 inch high profile tires on the rear axle) could cause the AWD system to stop functioning and default to rear-wheel drive or damage the AWD system.
For optimum AWD Performance, it is recommended to follow the tire rotation maintenance schedule. To avoid potential AWD malfunction or AWD system damage, it is recommended to replace all four tires rather than mixing significantly worn tires with new tires. For example, using 3 worn tread tires and 1 new tread tire all of the same original tire size/brand, can be tolerated by the AWD system as long as the worn tires still have usable tread depth.
Categories
When the child safety locks are set, you cannot open the rear doors from the inside.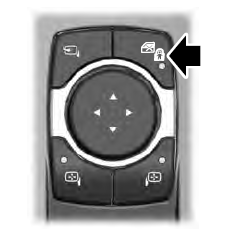 The child safety lock control is on the driver door.
Press the control to switch the child safety locks on. Press the control again to switch them off. A light on the child safety control illuminates when you switch them on.