Lincoln Aviator: Driving Hints / Reduced Engine Performance
WARNING: If you continue to drive your vehicle when the engine is overheating, the engine could stop without warning. Failure to follow this instruction could result in the loss of control of your vehicle.
If the engine coolant temperature gauge needle moves to the upper limit position, the engine is overheating.
You must only drive your vehicle for a short distance if the engine overheats. The distance you can travel depends on ambient temperature, vehicle load and terrain. The engine continues to operate with limited power for a short period of time.
If the engine temperature continues to rise, the fuel supply to the engine reduces. The air conditioning switches off and the engine cooling fan operates continually.
Gradually reduce your speed and stop your vehicle as soon as it is safe to do so.
Immediately switch the engine off to prevent severe engine damage.
Wait for the engine to cool down.
Check the coolant level.
Have your vehicle checked as soon as possible.
Your fuel economy is affected by several things, such as how you drive, the conditions you drive under, and how you maintain your vehicle. You may improve your fuel economy by keeping these things in mind: Accelerate and slow down in a smooth, moderate fashion...
Other information:
Materials Name Specification Motorcraft® SAE 75W-140 Synthetic Rear Axle Lubricant / XY-75W140-QL WSL-M2C192-A Motorcraft® High Temperature 4x4 Front Axle and Wheel Bearing Grease XG-11 WSS-M1C267-A1 Capacities Item Liters Material: Motorcraft® SAE 75W-140 Synthetic Rear Axle Lubricant / XY-75W140-QL (WSL-M2C192-A) 0...
WARNING: Persons who fit into the vehicle's seatbelt should not use an extension. Unnecessary use could result in serious personal injury in the event of a crash. WARNING: Only use extensions provided free of charge by our dealers. The dealer will provide an extension designed specifically for this vehicle, model year and seating position...
Categories
When the child safety locks are set, you cannot open the rear doors from the inside.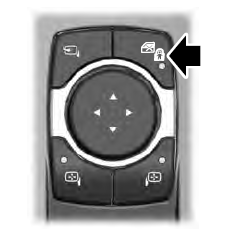 The child safety lock control is on the driver door.
Press the control to switch the child safety locks on. Press the control again to switch them off. A light on the child safety control illuminates when you switch them on.