Lincoln Aviator: Driving Hints / Cold Weather Precautions. Breaking-In. Driving Through Water
Cold Weather Precautions
The functional operation of some components and systems can be affected at temperatures below approximately -13°F (-25°C).
Breaking-In
You need to break in new tires for approximately 300 mi (480 km). During this time, your vehicle may exhibit some unusual driving characteristics.
Driving Through Water
WARNING: Do not drive through flowing or deep water as you may lose control of your vehicle.
Note: Driving through standing water can cause vehicle damage.
Note: Engine damage can occur if water enters the air filter.
Before driving through standing water, check the depth. Never drive through water that is higher than the bottom of the front rocker area of your vehicle.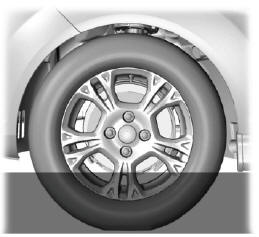 When driving through standing water, drive very slowly and do not stop your vehicle. Your brake performance and traction may be limited. After driving through water and as soon as it is safe to do so:
Lightly press the brake pedal to dry the brakes and to check that they work.
Check that the horn works.
Check that the exterior lights work.
Turn the steering wheel to check that the steering power assist works.
Categories
Each door has a backup power system which allows the door to function if your vehicle has no power. The system has a limited number of operations before the power is depleted and turns off. When the system turns off, the door remains open and unlatched and does not close.
If your vehicle has no power and the backup power system is turned off, you can close and secure your vehicle by manually resetting each door latch using a key in the position shown.