Lincoln Aviator: Electric Vehicle Information / Charge Time Settings
Follow these steps to set a preferred charge time for a charging location.
Select Charge Preferences on the Charge Settings screen.
Select Charge Time Setup on the Edit Charge Preferences screen.
Select Add New Location on the Charge Times screen. You can also edit settings for previously saved locations from this screen.
Select an address from the Recent Charge Locations screen.
Set Location Name as desired and then select Continue to Schedule on the Confirm Location for Charge Times screen.
Select WEEKDAY or WEEKEND on the Preferred Charge Times screen.
On the Select preferred WEEKDAY or WEEKEND Charge Times screen, use the circular 24 hour clock to select your charging time windows. You can select up to two time windows by pressing and dragging across the hour buttons. When you have selected your preferred times then press Next to return to the Preferred Charge Times screen. Repeat for WEEKEND or WEEKDAY as desired. Once you are done setting preferred charge times, press Save.

Note: Selecting all or none of the 24 hours results in any time of day given equal priority for charging.

Your saved location now shows on the Charge Times screen. Select Done to return to the main charge settings screen. Whenever your vehicle is at a saved charging location, the charge settings screen displays the location name, and the charging times are based on your Charge Time settings for that location plus the next Departure Time.

Note: A 100% charge by your next Departure Time is always the priority. When Charge Times are set, charging outside your preferred charging time windows could be necessary in order to finish by your next Departure Time. A notification appears when this condition occurs.

Note: When a 100% charge cannot be done by your next departure time, a notification appears which includes an estimate of the charge level you will have at your departure time.
Categories
Passive Key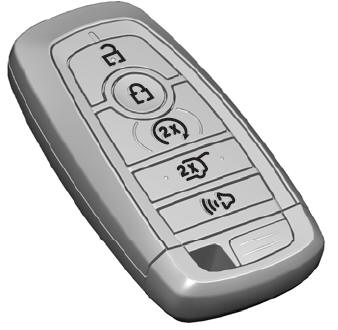 The passive key operates the power locks and the remote start system. The passive key must be in your vehicle to use the push button start.
Note: You may not be able to shift out of park (P) unless the passive key is inside your vehicle.