Lincoln Aviator: Driving Aids / Blind Spot Information System
WARNING: Do not use the blind spot information system as a replacement for using the interior and exterior mirrors or looking over your shoulder before changing lanes. The blind spot information system is not a replacement for careful driving.
WARNING: The system may not operate properly during severe weather conditions, for example snow, ice, heavy rain and spray. Always drive with due care and attention. Failure to take care may result in a crash.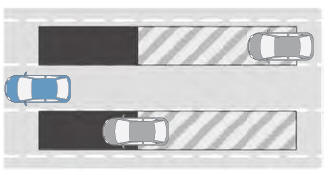 The design of the system is to detect vehicles that could have entered the blind spot zone. The detection area is on both sides of your vehicle, extending rearward from the exterior mirrors to approximately 13 ft (4 m) beyond the rear bumper. The detection area extends to approximately 59 ft (18 m) beyond the rear bumper when the vehicle speed is greater than 30 mph (48 km/h) to alert you of faster approaching vehicles.
Note: The system does not prevent contact with other vehicles. It does not detect parked vehicles, pedestrians, animals or other infrastructures.
Vehicles with Automatic Transmission The system turns on when all of the following occur: You start your vehicle. You shift into drive (D). The vehicle speed is greater than 6 mph (10 km/h)...
Other information:
Bluetooth Stereo and USB allow you to access media that you store on your Bluetooth device or USB device such as music, audio books or podcasts. The following buttons are available for Bluetooth and USB: You can use the forward, reverse, pause or play buttons to control the audio playback...
Disconnect NOTE: When the battery is disconnected and connected, some abnormal drive symptoms may occur while the vehicle relearns its adaptive strategy. The vehicle may need to be driven to allow the PCM to relearn the adaptive strategy values. NOTE: When disconnecting the battery to interrupt power to the vehicle electrical system, disconnect the battery ground cable(s)...
Categories
Passive Key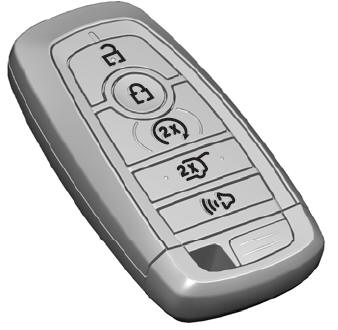 The passive key operates the power locks and the remote start system. The passive key must be in your vehicle to use the push button start.
Note: You may not be able to shift out of park (P) unless the passive key is inside your vehicle.