Lincoln Aviator: 911 Assist / What Is 911 Assist
911 Assist is a SYNC system feature that can call for help if you are in an accident. If a crash deploys an airbag, excluding knee airbags and rear inflatable seatbelts [if equipped], or activates the fuel pump shut-off, your SYNC-equipped vehicle may be able to contact emergency services by dialing 911 through a paired and connected Bluetooth enabled phone. You can learn more about the 911 Assist feature, by visiting:
Website
Not all crashes will deploy an airbag or activate the fuel pump shut-off, the triggers for 911 Assist. If a connected cell phone sustains damage or loses its connection to SYNC during a crash, SYNC will search for and try to connect to a previously paired cell phone. SYNC will then attempt to call the emergency services.
Before making the call:
SYNC provides a short window of time, about 10 seconds, to cancel the call. If you fail to cancel the call, SYNC attempts to dial 911.
SYNC says the following, or a similar message: SYNC will attempt to call 911, to cancel the call, press Cancel on your screen or press and hold the phone button on your steering wheel.
If you do not cancel the call, and SYNC makes a successful call, a pre-recorded message plays for the 911 operator, and then the occupant(s) in your vehicle is able to talk with the operator. Be prepared to immediately provide your name, phone number and location, because not all 911 systems are capable of receiving this information electronically.
During an emergency call, the system transmits vehicle data to the emergency service.
Emergency Call Requirements WARNING: Do not wait for 911 Assist to make an emergency call if you can do it yourself. Dial emergency services immediately to avoid delayed response time which could increase the risk of serious injury or death after a crash...
Other information:
Removal NOTE: Removal steps in this procedure may contain installation details. Unzip the second row single seat armrest cover. Remove the second row single seat armrest. Invert the single seat armrest cover to access the armrest pivot bolt...
System Diagram Item Description 1 Current Sensor 2 Contactor Sense Leads 3 BECM 4 Precharge Contactor Coil 5 Positive Contactor Coil 6 Negative Contactor Coil 7 High Voltage Battery Junction Box 8 Temperature Sensors 9 Cell Voltage Sense Leads 10 PCM 11 Battery Cell Arrays 12 GWM 13 RCM 14 DCDC 15 12 Volt Battery Monitoring Sensor 16 TCU (if equipped) 17 Ignition Switch 18 Main 12 Volt Battery 19 HVAC 20 Service Disconnect 21 High Voltage Battery Coolant Diverter Valve 22 Motor Electronics Coolant Pump 23 Isolation Switch (BIB) 24 Auxiliary 12 Volt Battery 25 Coolant Temperature Sensor 26 High Voltage Battery 27 BCM 28 High Voltage Battery Coolant Pump 29 BCMC 30 SOBDMC 31 High Voltage Interlock Loop (HVIL) 32 Auxillary Contactor Coil 33 SOBDM also known as the Battery Charger Control Module (BCCM) System Operation Network Message Chart - Battery Energy Control Module (BECM) Broadcast Message Originating Module Message Purpose 12 volt battery voltage BCM Battery voltage measured with battery sensor...
Categories
When the child safety locks are set, you cannot open the rear doors from the inside.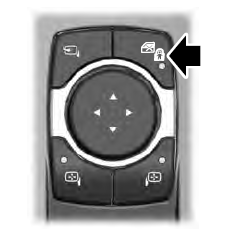 The child safety lock control is on the driver door.
Press the control to switch the child safety locks on. Press the control again to switch them off. A light on the child safety control illuminates when you switch them on.