Lincoln Aviator: Steering Wheel / Information Display Control and Horn
Information Display Control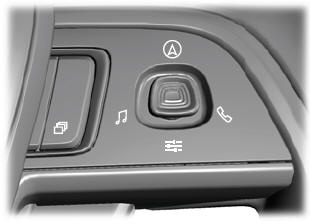 Note: The controls change when you enter a submenu.
The following controls are only available once you enter a submenu:
Horn

The heated steering wheel button is on the climate controls. Press the button to switch the heated steering wheel on and off. Note: You can use the heated steering wheel only when the engine is running...
Other information:
Argentina China Djibouti Ghana Indonesia Jamaica Mauritania Moldova Morocco Pakistan Paraguay Serbia South Africa South Korea KCC-REM-DDG-FO3 Syria Taiwan Ukraine United Arab Emirates (U.A.E.) United States and Canada WARNING: Changes or modifications not expressively approved by the party responsible for compliance could void the user's authority to operate the equipment...
Overview Multiplexing is a method of sending 2 or more signals simultaneously over a single circuit. Multiplexing allows 2 or more electronic modules (nodes) to communicate over a twisted wire pair [data (+) and data (-)] network. The information or messages that can be communicated on these wires consists of commands, status or data...
Categories
WARNING: Airbags can kill or injure a child in a child restraint. Never place a rear-facing child restraint in front of an active airbag. If you must use a forward-facing child restraint in the front seat, move the seat upon which the child restraint is installed all the way back.