Lincoln Aviator: Passive Anti-Theft System (PATS) / Description and Operation - Passive Anti-Theft System (PATS) - Component Location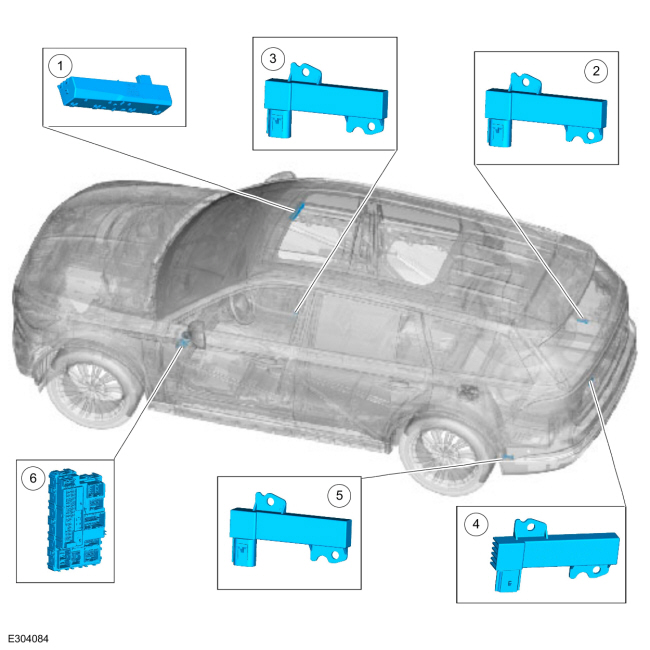 | Item | Description |
| --- | --- |
| 1 | RTM |
| 2 | Front Door Keyless Entry Antenna RH |
| 3 | PATS Center Antenna |
| 4 | Keyless Entry Rear Antenna |
| 5 | Front Door Keyless Entry Antenna LH |
| 6 | BCM |
Overview The PATS deters the vehicle from theft by preventing the vehicle from starting unless a valid programmed key is detected inside the vehicle when the START/STOP button is pressed...
Other information:
Special Tool(s) / General Equipment Hose Clamp Remover/Installer Removal NOTICE: The turbocharger compressor vanes can be damaged by even the smallest particles. When removing any turbocharger or engine air intake system component, ensure that no debris enters the system...
System Operation Parking Aid - Audible System Diagram - Without 360 Degree View Camera Item Description 1 PAM 2 LHR outer sensor 3 LHF outer sensor 4 LHF inner sensor 5 RHF inner sensor 6 RHR outer sensor 7 RHF outer sensor 8 RHR inner sensor 9 LHR inner sensor 10 Parking aid disable switch 11 PCM 12 ABS module 13 GWM 14 TRM 15 BCM 16 ACM 17 IPC 18 APIM 19 DSP 20 Rear door speakers 21 Front door speakers 22 with 14 or 28 speaker system System Diagram - With 360 Degree View Camera Item Description 1 PCM 2 IPMB 3 LHR outer sensor 4 ABS module 5 GWM 6 TRM 7 BCM 8 ACM 9 IPC 10 APIM 11 DSP 12 Rear door speakers 13 Front door speakers 14 LHF outer sensor 15 LHF inner sensor 16 RHF inner sensor 17 RHR outer sensor 18 RHF outer sensor 19 RHR inner sensor 20 LHR inner sensor 21 Right front active sensor 22 Left front active sensor 23 Right rear active sensor 24 Left rear active sensor 25 Parking aid disable switch 26 PAM 27 with 14 or 28 speaker system Network Message Chart PAM Network Input Messages Broadcast Message Originating Module Message Purpose Gear position PCM Enables or disables the front or rear parking aid depending on the gear lever position...
Categories
When the child safety locks are set, you cannot open the rear doors from the inside.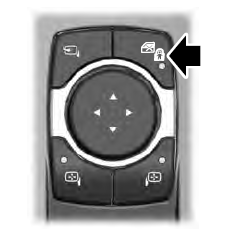 The child safety lock control is on the driver door.
Press the control to switch the child safety locks on. Press the control again to switch them off. A light on the child safety control illuminates when you switch them on.