Lincoln Aviator: Parking Brake and Actuation / Description and Operation - Parking Brake - Overview
Overview
The parking brake system uses 2 switch activated, Electronic Control Unit (ECU) controlled motors to apply and release the rear brake calipers. The ABS module controls and monitors the parking brake system and sets Diagnostic Trouble Codes (DTCs) when a fault is present in the system. The IPC illuminates the parking brake warning indicator and displays a message in the message center when a fault is present and when the parking brakes are applied and released.
Other information:
System Operation System Diagram - Supplemental Restraint System (SRS) Item Description 1 RCM 2 Ignition Switch 3 GWM 4 Driver Seatbelt Buckle Switch 5 Passenger Seatbelt Buckle Switch 6 RHFront Impact Severity Sensor 7 Driver Door Side Impact Sensor 8 Driver C-Pillar Side Impact Sensor 9 Passenger Belt Tension Sensor (BTS) 10 Passenger Seat Position Sensor 11 Driver Seat Position Sensor 12 APIM 13 Passenger Door Side Impact Sensor 14 BCM 15 Driver Second Row Seatbelt Buckle Switch 16 Passenger Second Row Seatbelt Buckle Switch 17 LH Front Impact Severity Sensor 18 OCSM 19 Center Second Row Seatbelt Buckle Switch 20 Passenger C-Pillar Side Impact Sensor 21 Driver Third Row Seatbelt Buckle Switch 22 Passenger Third Row Seatbelt Buckle Switch 23 IPC Item Description 1 Passenger Seatbelt Anchor Pretensioner 2 Driver Seatbelt Anchor Pretensioner 3 Driver Seatbelt Retractor Pretensioner 4 Passenger Side Curtain Airbag 5 Driver Side Curtain Airbag 6 Passenger Side Airbag 7 Driver Side Airbag 8 Passenger Airbag (Stages 1 and 2) 9 Driver Airbag (Stages 1 and 2) 10 RCM 11 BCM 12 Passenger Seatbelt Adaptive Load Limiter 13 Passenger Seatbelt Retractor Pretensioner 14 Passenger Load Limiting Retractor 15 Passenger Airbag Vent (if equipped) 16 Passenger Knee Airbag 17 Driver Knee Airbag 18 Driver Second Row Seatbelt Retractor 19 Passenger Second Row Seatbelt Retractor Network Message Chart - Supplemental Restraint System (SRS) Module Network Input Messages - RCM Broadcast Message Originating Module Message Purpose eCall confirmation APIM Used for SYNC® 911 Assist™ operation...
Special Tool(s) / General Equipment Interior Trim Remover Removal NOTE: Removal steps in this procedure may contain installation details. Open the media bin. Release the tabs and position the media hub out...
Categories
When the child safety locks are set, you cannot open the rear doors from the inside.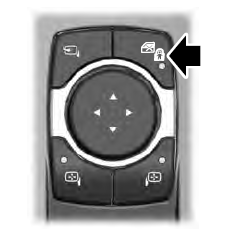 The child safety lock control is on the driver door.
Press the control to switch the child safety locks on. Press the control again to switch them off. A light on the child safety control illuminates when you switch them on.