Lincoln Aviator: Automatic Transmission - 10-Speed Automatic Transmission – 10R60 / Description and Operation - Pump Assembly
Overview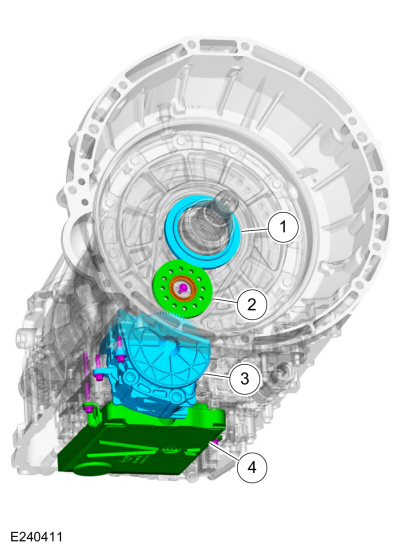 | | |
| --- | --- |
| Item | Description |
| 1 | Transmission fluid pump drive gear |
| 2 | Transmission fluid pump idler gear |
| 3 | Transmission fluid pump assembly |
| 4 | Transmission fluid filter |
The transmission fluid in the sump area at the bottom of the transmission case flows through a transmission fluid filter to the pump assembly. The pump is bolted to the bottom of the case and is driven by a set of gears mounted on the stator support and turned by the torque converter.
Pump Assembly Exploded View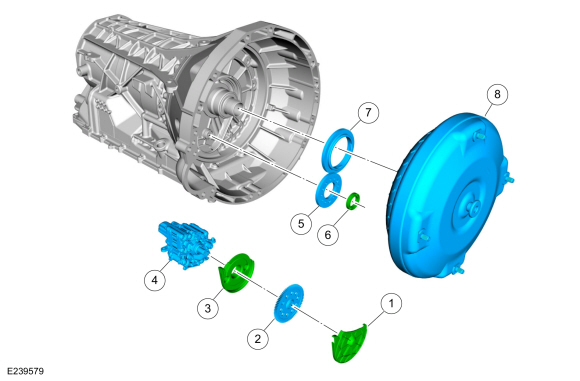 | | |
| --- | --- |
| Item | Description |
| 1 | Transmission fluid pump driven gear outer cover |
| 2 | Transmission fluid pump driven gear |
| 3 | Transmission fluid pump driven gear inner cover |
| 4 | Transmission fluid pump |
| 5 | Transmission fluid pump idler gear |
| 6 | Transmission fluid pump idler gear bearing |
| 7 | Transmission fluid pump drive gear |
| 8 | Torque converter |
Item Description 1 Internal wiring harness retaining bolt 2 Internal wiring harness 3 Park lock pawl solenoid 4 Solenoid retaining plate bolts 5 Solenoid retaining plate 6 TCC solenoid 7 LPC solenoid 8 Shift solenoid retaining plate bolts 9 Shift solenoid retaining plate 10 SSD 11 SSE 12 SSB 13 SSC 14 SSF 15 SSA 16 TFT 17 Valve channel plate bolts 18 Valve channel plate 19 Lower-to-upper valve body bolts 20 Lower valve body 21 Upper valve body 22 Valve body dowel pins Lower Valve Body 1 Valve body separator plate bolts 2 Valve body separator plate 3 TCC damper 4 LPC damper assembly 5 Check valve assemblies 6 Check balls (quantity 5) 7 LPC anti-backflow valve assembly 8 TCC priority valve assembly 9 Park lock pawl valve 10 A clutch control valve 11 SSA 12 F clutch control valve 13 SSF 14 C clutch control valve 15 SSC 16 B clutch control valve 17 SSB 18 E clutch control valve 19 SSE 20 D clutch control valve 21 SSD 22 Shift solenoid retainers Upper Valve Body 1 Lube control valve assembly 2 Plug and spring assembly 3 C clutch latch valve assembly 4 B clutch latch valve assembly 5 F clutch latch valve assembly 6 A clutch latch valve assembly 7 Plug and spring assembly 8 TCC regulator valve assembly 9 Main regulator valve assembly The main control consists of a upper and lower valve body with solenoids that are controlled by a remote mounted TCM or the PCM...
Planetary Gearset Exploded View Item Description 1 Ring gear No. 1 2 Sun gear No...
Other information:
Removal Remove the main control valve body. Refer to: Main Control Valve Body (307-01A Automatic Transmission - 10-Speed Automatic Transmission – 10R60, Removal and Installation). Remove the intermediate speed sensor A. Slide the plastic lock to the unlocked position...
..
Categories
Each door has a backup power system which allows the door to function if your vehicle has no power. The system has a limited number of operations before the power is depleted and turns off. When the system turns off, the door remains open and unlatched and does not close.
If your vehicle has no power and the backup power system is turned off, you can close and secure your vehicle by manually resetting each door latch using a key in the position shown.