Lincoln Aviator: Third Row Seats / Description and Operation - Third Row Seats - System Operation and Component Description
System Operation
System Diagram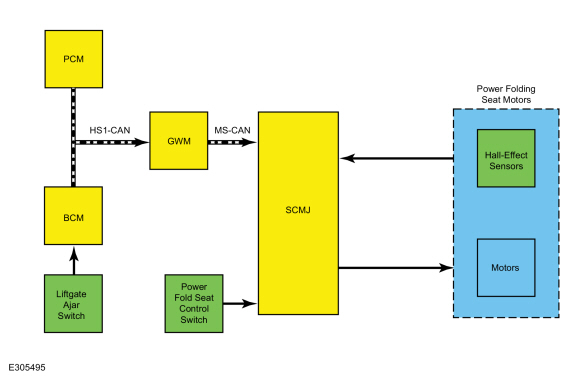 | Item | Description |
| --- | --- |
| 1 | SCMJ |
| 2 | HS-CAN1 |
| 3 | PCM |
| 4 | Liftgate Ajar Switch |
| 5 | Power Fold Seat Control Switch |
| 6 | Power Folding Seat Motors |
| 7 | Hall-Effect Sensors |
| 8 | Motors |
| 9 | MS-CAN |
| 10 | GWM |
| 11 | BCM |
Network Message Chart
SCMJ Network Input Messages
| Broadcast Message | Originating Module | Message Purpose |
| --- | --- | --- |
| Vehicle speed | PCM | The vehicle speed is one of the inputs the SCMJ requires to enable the power folding seat feature. |
| Liftgate ajar switch | BCM | Provides the status of the rear lifgate. The rear liftgate position is one of the inputs the SCMJ requrires to enable the power folding seat feature. |
Power-Folding Seats
The third row power seat system includes the following components:
Power fold seat control switch (located on the RH loadspace trim panel)
SCMJ (located under the LH 2nd row seat cushion)
LH and RH power-fold seat motors (part of the third row seat backrest)
The power fold motors rotate the LH or RH seat backrests. The motor assemblies contain Hall-effect sensors that indicate backrest position to the SCMJ.
The LH and RH latch motors receive voltage from the SCMJ.
The third row power fold seat only operates when the vehicle is stationary and the liftgate is open. The folding head restraints must be manually returned to the upright position. Power to the seat times out after 10 minutes but can be enabled by opening any door, turning the ignition on, pressing any keyless entry keypad button (if equipped) or the unlock button on the remote transmitter.
Component Description
Power Fold Seat Motor
The power fold seat motors are bi-directional and each contains a Hall-effect sensor used by the SCMJ to monitor motor movement and seat position. The power fold seat motors are serviced by installing a new third row seat backrest.
SCMJ
The SCMJ controls the operation of the third row power fold seat. PMI is required when a new SCMJ is installed.
Power Fold Seat Control Switch
The power fold seat control switch is an input to the SCMJ. The power fold seat control switch contains 3 momentary contact switches:
LH seat
RH seat
Both LH and RH seats
Resistors within the power fold seat switch allow the SCMJ to determine the direction each switch is activated.
Categories
The front outboard and rear safety restraints in the vehicle are combination lap and shoulder belts.
Insert the belt tongue into the proper buckle (the buckle closest to the direction the tongue is coming from) until you hear a snap and feel it latch. Make sure that you securely fasten the tongue in the buckle.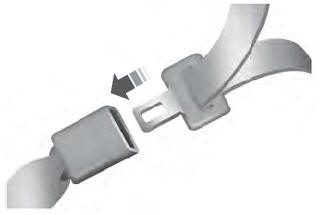 To unfasten, press the release button and remove the tongue from the buckle.