Lincoln Aviator: Climate Control System - General Information / General Procedures - Air Conditioning (A/C) Clutch Air Gap Adjustment - Vehicles With: R134A Refrigerant/R1234YF Refrigerant
Activation
NOTE: Compressor with a spring rubber clutch shown others similar.

Check the A/C clutch air gap at 3 equally spaced places between the clutch plate and the A/C clutch pulley. Refer to Specifications in Group 412.

Remove the A/C clutch. Refer to Air Conditioning A/C Clutch and Air Conditioning A/C Clutch Field Coil procedure in Group 412.

NOTE: For some vehicles a shim kit may only be available with the A/C clutch assembly.

Add or remove spacers between the clutch plate hub and the compressor shaft until the clearance is within specification. Refer to Specifications in Group 412.

For fixed compressor
Torque: 177 lb.in (20 Nm)

For EVDC compressor
Torque: 128 lb.in (14.5 Nm)
Categories
When the child safety locks are set, you cannot open the rear doors from the inside.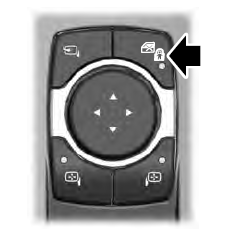 The child safety lock control is on the driver door.
Press the control to switch the child safety locks on. Press the control again to switch them off. A light on the child safety control illuminates when you switch them on.
Copyright © 2023 www.liaviator2.com