Lincoln Aviator: Automatic Transmission - 10-Speed Automatic Transmission – 10R60 / General Procedures - Transmission Fluid Exchange
Special Tool(s) / General Equipment
Materials
Name
Specification
Motorcraft® MERCON® ULV Automatic Transmission Fluid
XT-12-QULV
WSS-M2C949-A,
MERCON® ULV

Connect
NOTICE: Use transmission fluid specific for this transmission. Do not use any supplemental transmission fluid additives or cleaning agents. The use of these products can cause internal transmission components to fail, which will affect the operation of the transmission.
With the vehicle in NEUTRAL, position it on a hoist.
Refer to: Jacking and Lifting (100-02 Jacking and Lifting, Description and Operation).

Connect the Fluid Exchanger to the transmission fluid cooler tube after the transmission fluid cooler on the return tube. This helps remove any foreign material trapped in the transmission fluid coolers.
Use the General Equipment: Fluid Exchanger
Perform the transmission fluid exchange using the Fluid Exchanger.


Follow the manufacturer's instructions included with the machine.
Use the General Equipment: Fluid Exchanger
Material: Motorcraft® MERCON® ULV Automatic Transmission Fluid / XT-12-QULV (WSS-M2C949-A, ) (MERCON® ULV)

Refer here for current material specs

Once the transmission fluid exchange is completed, disconnect the Fluid Exchanger. Reconnect any disconnected transmission fluid cooler tubes.
Use the General Equipment: Fluid Exchanger
Check the transmission fluid level.
Refer to: Transmission Fluid Level Check (307-01A Automatic Transmission - 10-Speed Automatic Transmission – 10R60, General Procedures).

Categories
The front outboard and rear safety restraints in the vehicle are combination lap and shoulder belts.
Insert the belt tongue into the proper buckle (the buckle closest to the direction the tongue is coming from) until you hear a snap and feel it latch. Make sure that you securely fasten the tongue in the buckle.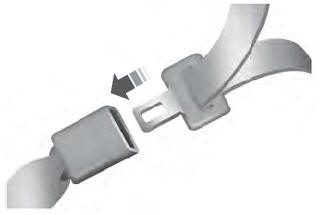 To unfasten, press the release button and remove the tongue from the buckle.