Lincoln Aviator: Charging System - General Information / Description and Operation - Charging System - Overview
Overview
The generator is driven by the FEAD belt. When the engine is started, the generator begins to generate AC voltage which is internally converted to DC voltage. The DC voltage level is controlled by the voltage regulator (located on the rear of the generator) and is supplied to the battery.
The PCM controls the voltage regulation setpoint and communicates this information to the generator internal voltage regulator over a LIN communication circuit.
This vehicle is equipped with an Electrical engergy management system (load shed strategy). The BCM monitors the battery state of charge using information from the battery monitoring sensor attached to the negative battery post and manages battery charging.
The PCM monitors the generator current using the generator current sensor attached to the generator B+ battery cable. The information supplied to the PCM from the generator current sensor is used by the PCM to adjust the engine idle stability and torque control.
System Operation System Diagram Item Description 1 PCM 2 GWM 3 IPC 4 Generator 5 Generator current sensor 6 HS-CAN1 7 HS-CAN1 8 HS-CAN3 9 BCM 10 Battery monitoring sensor Network Message Chart Module Network Input Messages — Body Control Module (BCM) Broadcast Message Originating Module Message Purpose Alternator fault PCM The PCM has detected a fault in the generator or generator circuits...
Other information:
Removal NOTE: Removal steps in this procedure may contain installation details. NOTE: If installing a new module, it is necessary to upload the module configuration information to the diagnostic scan tool prior to removing the module. This information must be downloaded into the new module after installation...
System Operation Adaptive Cruise Control Item Description 1 IPC 2 Accelerator Pedal 3 Deactivator Switch 4 Stoplamp Switch 5 Brake Switch Assembly 6 SCCM 7 PCM 8 Cruise Control Switches 9 IPMA 10 BCM 11 ABS Module 12 GWM 13 RCM 14 CCM 15 SIMA Network Message Chart Network Input Messages - ABS Module Broadcast Message Originating Module Message Purpose ACC deceleration request IPMA Used for cruise control automatic braking...
Categories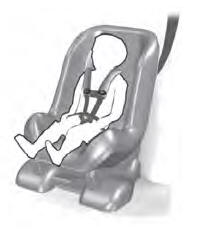 Use a child restraint (sometimes called an infant carrier, convertible seat, or toddler seat) for infants, toddlers and children weighing 40 lb (18 kg) or less (generally four-years-old or younger).
Using Lap and Shoulder Belts
WARNING: Do not place a rearward facing child restraint in front of an active airbag. Failure to follow this instruction could result in personal injury or death.