Lincoln Aviator: Instrumentation, Message Center and Warning Chimes / Description and Operation - Head Up Display (HUD) - Overview
Overview
The HUD provides two major purposes. It serves as a supplemental display for driver information and provides the forward collison warning to alert the driver of an impending collision. All HUD information and warnings are displayed on the windshield and can be turned on, off and setup to display individual features using the RH steering wheel switch.
For additional information about the forward collision warning,
Refer to: Collision Warning and Collision Avoidance System - System Operation and Component Description (419-03C Collision Warning and Collision Avoidance System, Description and Operation).

HUD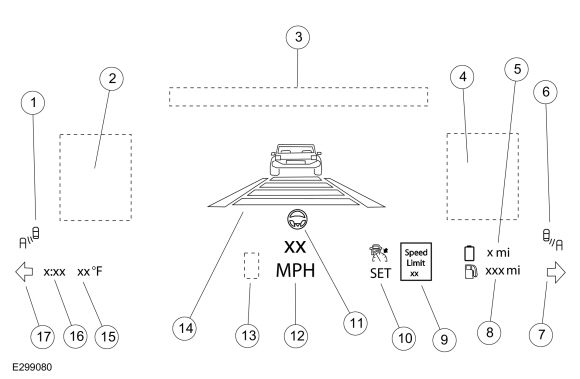 Item
Description
1

NOTE: The LH BLIS indication only appears when the turn signal is activated.

LH BLIS indicator
2
Navigation display area
3
Phone and audio information display area
4

HUD adjustments
Stop and go indication

5
Electric Vehicle (EV) drive range
6

NOTE: The RH BLIS indication only appears when the turn signal is activated.

7
RH turn signal indication
8
DTE and low fuel indication
9
Speed limit sign display
10
Cruise control/ACC indicator and set speed display
11
Lane centering assist indication
12
Digital speedometer
13
Transmission range indication
14

ACC follow and gap setting display
Lane keep assist and lane departure display
Distance alert indication display

15
Outside air temperature display
16
Clock display
17
LH turn signal indication
The following items displayed in the HUD can be turned on or off using the setup menu.
Fuel information, time and outside air temperature.
Cruise control and lane keeping system

cruise control and lane keeping system
The HUD setup menu allows the driver to set up the following:
HUD brightness (level 1-13)
When an item that is displayed in the IPC is selected on in the HUD, the selected item is turned off in the IPC, except for the speedometer, which is reduced to a minimized display format. For all details about the HUD functionality and the display setup, refer to the Owner's Literature.
The HUD displays the following information:
Active driver assist system
Audio information
BLIS
Clock
Digital speedometer
DTE
Electric Vehicle (EV) drive range
Forward collision warning
Low fuel indication
Navigation
Outside air temparture
Phone call information
Set speed limit
Speed sign
Transmission range selection indication
LH and RH turn
System Operation System Diagram Item Description 1 BCM 2 GWM 3 SODR 4 SODL 5 DSM 6 PCM 7 HVAC module 8 RH steering wheel switch 9 HUD module 10 Rain sensor 11 IPC 12 ACM 13 Displays 14 Adaptive cruise control 15 DTE/Low fuel indication 16 Forward collision warning 17 Clock/outside air temperature 18 Electric Vehicle (EV) range indication 19 Active driver assist system display 20 Digital speedometer/speed sign display 21 BLIS 22 LH 23 RH 24 Turn indicators 25 Navigation 26 APIM 27 SCCM 28 IPMA 29 SIMA Network Message Chart Module Network Input Messages - HUD Module Broadcast Message Originating Module Message Purpose Adaptive cruise control follow mode display IPMA Input used to control the ACC component in the active driver assist system display...
Other information:
Principles of Operation Inspection and Verification Verify the customer concern. Visually inspect for obvious signs of mechanical or electrical damage. If an obvious cause for an observed or reported concern is found, correct the cause (if possible) before proceeding to the next step...
If you plan on storing your vehicle for 30 days or more, read the following maintenance recommendations to make sure your vehicle stays in good operating condition. We engineer and test all motor vehicles and their components for reliable, regular driving...
Categories
Each door has a backup power system which allows the door to function if your vehicle has no power. The system has a limited number of operations before the power is depleted and turns off. When the system turns off, the door remains open and unlatched and does not close.
If your vehicle has no power and the backup power system is turned off, you can close and secure your vehicle by manually resetting each door latch using a key in the position shown.