Lincoln Aviator: Lane Keeping System / Description and Operation - Lane Keeping System - Overview
Overview
The Lane Keeping System (LKS) has 2 functions, lane keeping aid and lane keeping alert. The Lane Keeping System (LKS) utilizes the camera located in the IPMA to detect and track the road lane markings. The lane keeping alert detects unintentional drifting toward the outside of the lane and alerts the driver through steering wheel vibrations and a visual alert in the IPC message center. The lane keeping aid assists the driver by automatically providing steering torque to help the driver keep the vehicle in the lane.
System Operation Lane Keeping Alert and Lane Keeping Aid Item Description 1 Lane Keeping System Switch 2 IPMA 3 GWM 4 Camera Windshield Defrost Heater 5 RCM 6 SCCM 7 PCM 8 IPC 9 TRM 10 BCM 11 PSCM 12 with active cruise control 13 CCM 14 Windshield Network Message Chart Module Network Input Messages - IPMA Broadcast Message Originating Module Message Purpose Ambient air temperature filtered PCM Used to control the camera windshield defrost heater operation...
Other information:
System Operation System Diagram Item Description 1 RFA module 2 BCM 3 GWM 4 TCU 5 Bluetooth Antennas Network Message Chart RFA Module Network Input Messages Broadcast Message Originating Module Message Purpose BLEM Wait For Key Alert TCU The TCU sends the RFA module (also know as BLEM) an error message to restart the provisioning process with the onboard modules over again...
Removal NOTE: Removal steps in this procedure may contain installation details. NOTE: If installing a new module, it is necessary to upload the module configuration information to the scan tool prior to removing the module. This information must be downloaded into the new module after installation...
Categories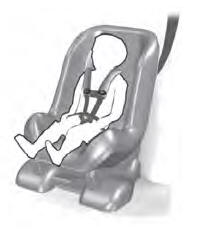 Use a child restraint (sometimes called an infant carrier, convertible seat, or toddler seat) for infants, toddlers and children weighing 40 lb (18 kg) or less (generally four-years-old or younger).
Using Lap and Shoulder Belts
WARNING: Do not place a rearward facing child restraint in front of an active airbag. Failure to follow this instruction could result in personal injury or death.