Lincoln Aviator: Pedestrian Alert System / Description and Operation - Pedestrian Alert System - System Operation and Component Description
System Operation
System Diagram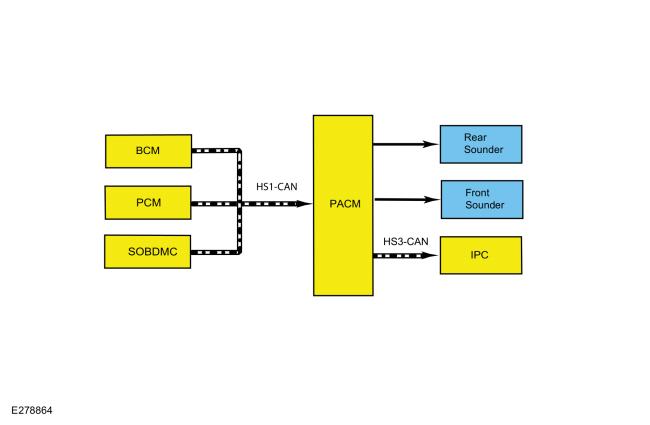 | Item | Description |
| --- | --- |
| 1 | PACM |
| 2 | PCM |
| 3 | IPC |
| 4 | Rear sounder |
| 5 | BCM |
| 6 | SOBDMC |
| 7 | Front sounder |
Network Message Charts
Module Network Input Messages - PACM
| Broadcast Message | Originating Module | Message Purpose |
| --- | --- | --- |
| Factory mode | BCM | Controls the pedestrian alert system based on the vehicle build status set in factory mode. |
| Ignition status | BCM | Ignition RUN, START and accessory states required for the PACM operating modes and fault reporting. |
| Power pack status | SOBDMC | Determines the HEV operational state. |
| Reverse gear state | PCM | Determines reverse gear state. |
| Transport mode | BCM | Controls the pedestrian alert system based on the vehicle build status set in transport mode. |
| Vehicle speed | PCM | Engages the sounder between 0-30 km/h (0-8 mph). |
Module Network Input Messages - IPC
| Broadcast Message | Originating Module | Message Purpose |
| --- | --- | --- |
| Pedestrian alert fault | PACM | Displays the pedestrian sounder fault warning message. |
Pedestrian Alert System
The pedestrian alert system provides an audible alert when the vehicle is moving in forward or reverse between 0-30 km/h (0-8 mph). The PACM receives all network messages required to operate the system over the HS-CAN1.
In the event of a system fault, the IPC message center displays the Pedestrian Alert Fault Service Now warning message in the message center. The IPC receives the pedestrian alert fault message from the GWM over the HS-CAN3. The GWM receives the pedestrain alert fault message from the PACM over the HS-CAN1.
Component Description
PACM
The PACM controls the pedestrian alert system and is capable of setting Diagnostic Trouble Codes (DTCs) when a fault condition is detected. The PACM requires PMI when replaced.
Categories
Passive Key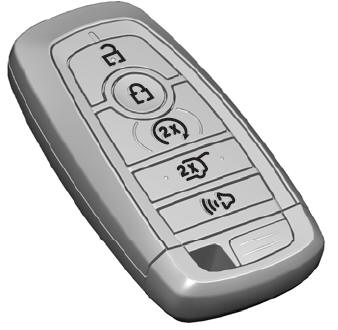 The passive key operates the power locks and the remote start system. The passive key must be in your vehicle to use the push button start.
Note: You may not be able to shift out of park (P) unless the passive key is inside your vehicle.