Lincoln Aviator: Supplemental Climate Control / Description and Operation - Supplemental Climate Control - Overview
Overview
The cabin coolant heater system provides warm coolant to the heater core to warm the passenger compartment whenever the front DATC module requests heat and the HEV is in a driving mode, remote started, or doing Cabin Drive Conditioning.
The climate control system uses the cabin coolant heater to heat the passenger compartment in place of the heater core in low ambient temperatures. Once engine coolant reaches a sufficient temperature to heat the passenger compartment, the climate control system stops using the cabin coolant heater.
The cabin coolant heater system consists of the following components:
Cabin heater coolant pump
Cabin coolant heater
Cabin heater coolant diverter valve
Heater core
Cabin heater coolant temperature sensor
Categories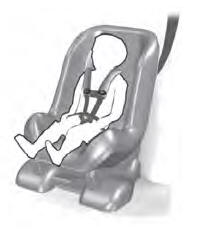 Use a child restraint (sometimes called an infant carrier, convertible seat, or toddler seat) for infants, toddlers and children weighing 40 lb (18 kg) or less (generally four-years-old or younger).
Using Lap and Shoulder Belts
WARNING: Do not place a rearward facing child restraint in front of an active airbag. Failure to follow this instruction could result in personal injury or death.