Lincoln Aviator: Tire Pressure Monitoring System / How Temperature Affects Your Tire Pressure
The tire pressure monitoring system monitors tire pressure in each pneumatic tire. While driving in a normal manner, a typical passenger tire inflation pressure may increase about 2–4 psi (14–28 kPa) from a cold start situation. If the vehicle is stationary overnight with the outside temperature significantly lower than the daytime temperature, the tire pressure may decrease about 3 psi (21 kPa) for a drop of 30°F (17°C) in ambient temperature. This lower pressure value may be detected by the tire pressure monitoring system as being significantly lower than the recommended inflation pressure and activate the system warning light for low tire pressure. If the low tire pressure warning light is on, visually check each tire to verify that no tire is flat. If one or more tires are flat, repair as necessary. Check the air pressure in the road tires. If any tire is under-inflated, carefully drive the vehicle to the nearest location where air can be added to the tires. Inflate all the tires to the recommended inflation pressure.
WARNING: Do not use the tire pressure displayed in the information display as a tire pressure gauge. Failure to follow this instruction could result in personal injury or death...
WARNING: If the tire pressure monitor sensor becomes damaged it may not function. Note: You should only use tire sealants in roadside emergencies as they may cause damage to the tire pressure monitoring system sensor...
Other information:
Inspection WARNING: All seatbelt components must be inspected and corrected as part of any collision repair. Inspect all seatbelt components as prescribed by Seatbelt Procedure After a Collision found in Section 501-20A General Procedures of this manual...
N..
Categories
WARNING: Do not adjust the steering wheel when your vehicle is moving.
Note: Make sure that you are sitting in the correct position.
Unlock the steering column. Adjust the steering wheel to the desired position.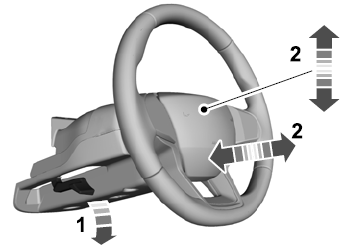 Lock the steering column.