Lincoln Aviator: Electrical Distribution / Module Communications Network
Overview Multiplexing is a method of sending 2 or more signals simultaneously over a single circuit. Multiplexing allows 2 or more electronic modules (nodes) to communicate over a twisted wire pair [data (+) and data (-)] network...
Other information:
Special Tool(s) / General Equipment Resistance Spotwelding Equipment Spherical Cutter Grinder Hot Air Gun Spatula Air Body Saw 8 mm Drill Bit MIG/MAG Welding Equipment Spot Weld Drill Bit Locking Pliers Materials Name Specification Metal Bonding AdhesiveTA-1, TA-1-B, 3M™ 08115, LORD Fusor® 108B - Seam SealerTA-2-B, 3M™ 08308, LORD Fusor® 803DTM - Flexible Foam Repair3M™ 08463, LORD Fusor® 121 - Removal WARNING: Electric vehicles damaged by a crash may have compromised high voltage safety systems and present a potential high voltage electrical shock hazard...
If your vehicle has no power and the backup power system is turned off, you can manually unlatch the driver door using a key in the position shown. Remove the key blade from the transmitter. Insert the key blade into the lock cylinder. Turn the key clockwise to unlatch the driver door...
Categories
WARNING: Do not adjust the steering wheel when your vehicle is moving.
Note: Make sure that you are sitting in the correct position.
Unlock the steering column. Adjust the steering wheel to the desired position.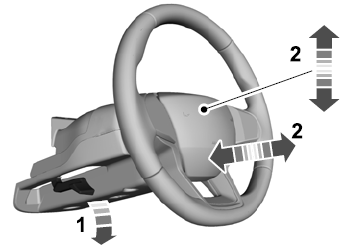 Lock the steering column.