Lincoln Aviator: Climate Control System - General Information / Specifications
Lubricants, Fluids, Sealers and Adhesives
NOTE: Per the warranty and policy manual the Ford Engineering-approved refrigerant (see table for service part number) must be used for air conditioning repairs
| | |
| --- | --- |
| Item | Specifications |
| Motorcraft® R-1234yf Refrigerant POE Oil / YN-34 (US, Canada) | WSS-M2C31-B2 |
| Motorcraft® R-1234yf Refrigerant PAG Oil / YN-35 (US, Canada) | WSS-M2C300-A2 |
| Motorcraft® Electric A/C Compressor Oil / YN-32 (Mexico, Asia Pacific) | _ |
| Motorcraft® PAG Refrigerant Compressor Oil / YN-12-D (Mexico, Asia Pacific) | WSH-M1C231-B |
| R-1234yf Refrigerant / YN-33-A (US); HS7Z-19B519-BA (Canada) | WSS-M17B21-A |
| Motorcraft® R-134a Refrigerant / MYN-19 (Mexico, Asia Pacific) | WSH-M17B19-A |
| Motorcraft® A/C System Flushing Solvent / YN-23 | _ |
| Motorcraft® A/C Cooling Coil Coating / YN-29 | _ |
Capacities
Item
Specifications
Motorcraft® R-1234yf Refrigerant PAG Oil / YN-35 (US, Canada)
3.0L EcoBoost rear only 5.9 fl oz (175 ml)
Motorcraft® R-1234yf Refrigerant POE Oil / YN-34 (US, Canada)
3.0L EcoBoost Hybrid rear only 5.9 fl oz (175 ml)
Motorcraft® PAG Refrigerant Compressor Oil / YN-12-D (Mexico, Asia Pacific)
3.0L EcoBoost rear only 5.9 fl oz (175 ml)
Motorcraft® Electric A/C Compressor Oil / YN-32 (Mexico, Asia Pacific)
3.0L EcoBoost Hybrid rear only 7.3 fl oz (216 ml)
R-1234yf Refrigerant / YN-33-A (US); HS7Z-19B519-BA (Canada)
3.0L EcoBoost front only 24 oz (0.68 kg)
3.0L EcoBoost rear only 35 oz (0.99 kg)
3.0L EcoBoost 37 oz (1.05 kg)
Motorcraft® R-134a Refrigerant / MYN-19 (Mexico, Asia Pacific)
3.0L EcoBoost rear only 37 oz (1.05 kg)
3.0L EcoBoost Hybrid rear only 38 oz (1.07 kg)
Other information:
Special Tool(s) / General Equipment Interior Trim Remover Removal NOTE: Removal steps in this procedure may contain installation details. Remove the second row center seat. Refer to: Second Row Center Seat (501-10B Second Row Seats, Removal and Installation)...
This feature helps to prevent you from locking your intelligent access key inside your vehicle's passenger compartment or rear cargo area. When you electronically lock your vehicle with any door open, the transmission is in park (P) and the ignition is off, the system searches for an intelligent access key inside your vehicle after you close the last door...
Categories
WARNING: Do not adjust the steering wheel when your vehicle is moving.
Note: Make sure that you are sitting in the correct position.
Unlock the steering column. Adjust the steering wheel to the desired position.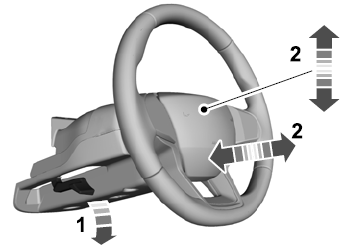 Lock the steering column.