Lincoln Aviator: Climate Control System - General Information / Specifications
Lubricants, Fluids, Sealers and Adhesives
NOTE: Per the warranty and policy manual the Ford Engineering-approved refrigerant (see table for service part number) must be used for air conditioning repairs
| | |
| --- | --- |
| Item | Specifications |
| Motorcraft® R-1234yf Refrigerant POE Oil / YN-34 (US, Canada) | WSS-M2C31-B2 |
| Motorcraft® R-1234yf Refrigerant PAG Oil / YN-35 (US, Canada) | WSS-M2C300-A2 |
| Motorcraft® Electric A/C Compressor Oil / YN-32 (Mexico, Asia Pacific) | _ |
| Motorcraft® PAG Refrigerant Compressor Oil / YN-12-D (Mexico, Asia Pacific) | WSH-M1C231-B |
| R-1234yf Refrigerant / YN-33-A (US); HS7Z-19B519-BA (Canada) | WSS-M17B21-A |
| Motorcraft® R-134a Refrigerant / MYN-19 (Mexico, Asia Pacific) | WSH-M17B19-A |
| Motorcraft® A/C System Flushing Solvent / YN-23 | _ |
| Motorcraft® A/C Cooling Coil Coating / YN-29 | _ |
Capacities
Item
Specifications
Motorcraft® R-1234yf Refrigerant PAG Oil / YN-35 (US, Canada)
3.0L EcoBoost rear only 5.9 fl oz (175 ml)
Motorcraft® R-1234yf Refrigerant POE Oil / YN-34 (US, Canada)
3.0L EcoBoost Hybrid rear only 5.9 fl oz (175 ml)
Motorcraft® PAG Refrigerant Compressor Oil / YN-12-D (Mexico, Asia Pacific)
3.0L EcoBoost rear only 5.9 fl oz (175 ml)
Motorcraft® Electric A/C Compressor Oil / YN-32 (Mexico, Asia Pacific)
3.0L EcoBoost Hybrid rear only 7.3 fl oz (216 ml)
R-1234yf Refrigerant / YN-33-A (US); HS7Z-19B519-BA (Canada)
3.0L EcoBoost front only 24 oz (0.68 kg)
3.0L EcoBoost rear only 35 oz (0.99 kg)
3.0L EcoBoost 37 oz (1.05 kg)
Motorcraft® R-134a Refrigerant / MYN-19 (Mexico, Asia Pacific)
3.0L EcoBoost rear only 37 oz (1.05 kg)
3.0L EcoBoost Hybrid rear only 38 oz (1.07 kg)
Other information:
Recycled Coolant We do not recommend the use of recycled coolant as an approved recycling process is not yet available. Note: Dispose of used coolant in the appropriate manner. Follow your community's regulations and standards for recycling and disposing of automotive fluids...
WARNING: To reduce the risk of vehicle damage and personal burn injuries, do not start your engine with the air cleaner removed and do not remove it while the engine is running. When changing the engine air filter, do not allow debris or foreign material to enter the air induction system...
Categories
WARNING: Do not adjust the steering wheel when your vehicle is moving.
Note: Make sure that you are sitting in the correct position.
Unlock the steering column. Adjust the steering wheel to the desired position.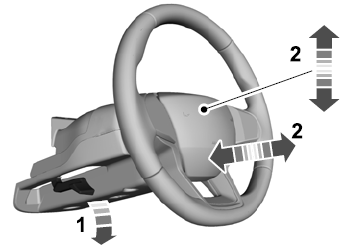 Lock the steering column.