Lincoln Aviator: Roof Opening Panel / Specifications
Specifications
| Item | Specification |
| --- | --- |
| Rear fixed glass panel to roof flushness, side (at front of glass) | 0 ± 0.08 in (0 ± 2.0 mm) |
| Rear fixed glass panel to roof flushness, rear | 0 ± 0.04 in (0 ± 1.0 mm) |
| Front sliding glass panel to roof flushness, front | 0 ± 0.04 in (0 ± 1.0 mm) |
| Front sliding glass panel to rear fixed glass panel flushness | 0 ± 0.04 in (0 ± 1.0 mm) |
Roof Opening Panel The roof opening panel consists of the following: Air deflector Sliding glass panel Sliding glass panel motor Shield assembly Shield motor Roof opening panel fixed glass Roof opening panel frame assembly Roof opening panel drain hoses Roof opening panel control switch Roof opening panel seal The roof opening panel motor must be initialized when repairs are carried out on the roof opening panel system, including: any time the roof opening panel motor has been removed, the roof opening panel glass (sliding or fixed glass) has been removed or adjusted, or if the roof opening panel frame has been removed...
Other information:
System Operation System Diagram - Power Windows Driver Side Power Windows Item Description 1 LIN 2 Driver Side Front Window Motor 3 Driver Side Rear Window Control Switch 4 Driver Window Control Switch 5 DDM 6 Driver Side Rear Window Motor Passenger Side Power Windows Item Description 1 Passenger Front Window Motor 2 Passenger Rear Window Motor 3 Passenger Side Rear Window Control Switch 4 Passenger Side Front Window Control Switch 5 PDM 6 DDM 7 MS-CAN Network Message Chart - Power Windows Passenger Door Module (PDM) Network Input Messages Broadcast Message Originating Module Message Purpose Passenger window command DDM When activating the passenger front or rear windows from the driver window control switch, the passenger window command is sent from the DDM to the PDM...
Removal WARNING: The following procedure prescribes critical repair steps required for correct restraint system operation during a crash. Follow all notes and steps carefully. Failure to follow step instructions may result in incorrect operation of the restraint system and increases the risk of serious personal injury or death in a crash...
Categories
The front outboard and rear safety restraints in the vehicle are combination lap and shoulder belts.
Insert the belt tongue into the proper buckle (the buckle closest to the direction the tongue is coming from) until you hear a snap and feel it latch. Make sure that you securely fasten the tongue in the buckle.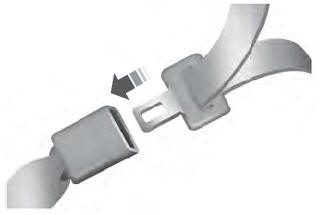 To unfasten, press the release button and remove the tongue from the buckle.