Lincoln Aviator: Installing Child Restraints / Using Lower Anchors and Tethers for CHildren (LATCH)
WARNING: Do not attach two child safety restraints to the same anchor. In a crash, one anchor may not be strong enough to hold two child safety restraint attachments and may break, causing serious injury or death.
WARNING: Depending on where you secure a child restraint, and depending on the child restraint design, you may block access to certain seatbelt buckle assemblies and LATCH lower anchors, rendering those features potentially unusable. To avoid risk of injury, make sure occupants only use seating positions where they are able to be properly restrained.
The LATCH system has three vehicle anchor points: two lower anchors where the seat backrest and seat cushion meet (called the seat bight) and one top tether anchor behind that seating position.
LATCH compatible child restraints have two rigid or webbing mounted attachments that connect to the two lower anchors at the LATCH equipped seating positions in your vehicle. This type of attachment method eliminates the need to use seatbelts to attach the child restraint. However, you can still use the seatbelt to attach the child restraint. For forward-facing child restraints, you must also attach the top tether strap to the proper top tether anchor if one came with your child restraint.
Your vehicle has LATCH lower anchors for child restraint installation at the seating positions marked with the child restraint symbol.
Second Row Bucket Seats and Third Row Seats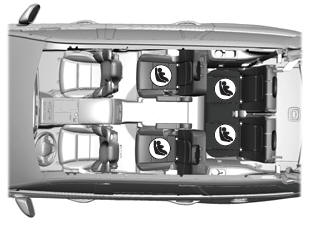 Second Row Bench Seats and Third Row Seats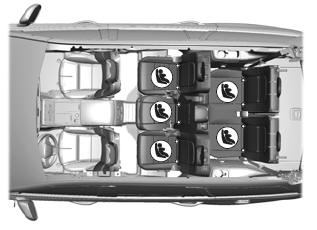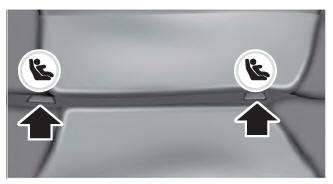 The LATCH anchors are at the rear section of the rear seat between the cushion and seat backrest below the symbols as shown. Follow the child restraint manufacturer's instructions to properly install a child restraint with LATCH attachments.
Follow the instructions on attaching child restraints with tether straps.
Attach LATCH lower attachments of the child restraint only to the anchors shown.
Use of Inboard Lower Anchors from the Outermost Seating Positions (Center Seating Use)
WARNING: The standardized spacing for LATCH lower anchors is 11 in (280 mm) center to center. Do not use LATCH lower anchors for the center seating position unless the child restraint manufacturer's instructions permit and specify using anchors spaced at least as far apart as those in this vehicle.
The lower anchors at the center of the second row bench seat are spaced 20.5 in (52 cm) apart. The standardized spacing for LATCH lower anchors is 11 in (28 cm) center to center. You cannot install a child restraint with rigid LATCH attachments at the center seating position. You can only use LATCH compatible child restraints with attachments on belt webbing at this seating position provided that the child restraint manufacturer's instructions permit use with the anchor spacing stated. Do not attach a child restraint to any lower anchor if you have an adjacent child restraint attached to that anchor.
Each time you use the child restraint, check that the seat is properly attached to the lower anchors and tether anchor, if applicable. Tug the child restraint from side to side and forward and back where you secured it to your vehicle. The child restraint should move less than 1 in (2.5 cm) if you properly installed it.
If you do not properly anchor the child restraint, the risk of injury to a child greatly increases in a crash.
Combining Seatbelt and LATCH Lower Anchors for Attaching Child Restraints
When used in combination, you can attach either the seatbelt or the LATCH lower anchors first, provided a proper installation is achieved. Attach the tether strap afterward, if included with the child restraint.
Use a child restraint (sometimes called an infant carrier, convertible seat, or toddler seat) for infants, toddlers and children weighing 40 lb (18 kg) or less (generally four-years-old or younger)...
Many forward-facing child restraints include a tether strap which extends from the back of the child restraint and hooks to an anchoring point called the top tether anchor...
Other information:
Removal NOTE: Removal steps in this procedure may contain installation details. Remove the wiper pivot arms. Refer to: Windshield Wiper Pivot Arm (501-16 Wipers and Washers, Removal and Installation). Remove the retainers and the RH side engine compartment cover...
T..