Lincoln Aviator: High Voltage Battery Charging System / Description and Operation - High Voltage Battery Charging System - Plug-In Hybrid Electric Vehicle (PHEV) - Component Location
| Item | Description |
| --- | --- |
| 1 | Secondary On-Board Diagnostic Control Module A (SOBDM) |
| 2 | Charge Status Indicator (CSI) |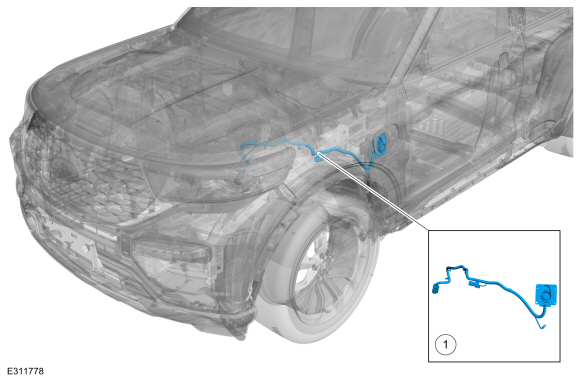 | Item | Description |
| --- | --- |
| 1 | Charge port and wiring harness |
Overview The high voltage battery charging system is responsible for charging the high voltage battery while the vehicle is not operating. It consists of an Electric Vehicle Supply Equipment (EVSE), SOBDM and Charge Status Indicator (CSI)...
Other information:
System Diagram Item Description 1 SOBDMC/ISC (Inverter System Controller) 2 APIM 3 FCIM 4 BCM 5 BMS 6 DCDC 7 PCM 8 GWM 9 BECM 10 SOBDM/BCCM (Battery Charger Control Module) 11 EVSE (Electric Vehicle Supply Equipment) 12 High Voltage Battery 13 High Voltage Battery Junction Box 14 CSI (Charge Status Indicator) System Operation Network Message Chart — SOBDM Broadcast Message Originating Module Message Purpose High voltage battery state of charge (SOC) BECM Used to notify other vehicle modules that the high voltage battery has reached 100% SOC High voltage battery charge status (not ready, charge wait, ready, charging, charge complete, fault) BECM Used to transition the charger between charging and ready states Vehicle operating mode Inverter System Controller (ISC) Vehicle must be in non-torque producing mode prior to charging Low voltage support PCM Used to activate the low voltage output and support the low voltage system Gear lever position PCM Used to determine transaxle gear state Ambient air temperature PCM Ambient air temperature used for cooling strategy Maximum current request BECM Used to limit and set target setpoint of charger Maximum voltage request BECM Used to limit and set target setpoint of charger Charge contactor open/close BECM High voltage battery charge contactor command 12V battery charge setpoint command PCM This message is used to set the 12V battery charging voltage...
Special Tool(s) / General Equipment Interior Trim Remover Removal NOTE: Removal steps in this procedure may contain installation details. NOTE: If installing a new module, it is necessary to upload the module configuration information to the scan tool prior to removing the module...
Categories
WARNING: Do not adjust the steering wheel when your vehicle is moving.
Note: Make sure that you are sitting in the correct position.
Unlock the steering column. Adjust the steering wheel to the desired position.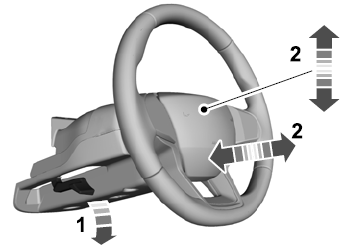 Lock the steering column.