Lincoln Aviator: Capacities and Specifications - Plug-In Hybrid Electric Vehicle (PHEV) / Engine Oil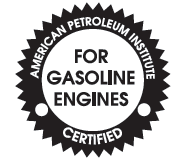 An oil that displays this symbol conforms to current engine, emission system and fuel economy performance standards of ILSAC.
We recommend Motorcraft® motor oil for your vehicle. If Motorcraft® oil is not available, use motor oils of the recommended viscosity grade that meet API SP requirements and display the API Certification Mark for gasoline engines.
Do not use supplemental engine oil additives because they are unnecessary and could lead to engine damage that your vehicle warranty does not cover.
Capacities

Materials

To improve engine cold start performance, we recommend that you use the following alternative engine oil in extremely cold climates, where the ambient temperature reaches -22...
Other information:
Line Pressure Test This test verifies the line pressure is within specification. If available, refer to the Transmission Line Pressure Test general procedure to access the line pressure tap.REFER to: Transmission Line Pressure Test (307-01A Automatic Transmission - 10-Speed Automatic Transmission – 10R60, General Procedures)...
You can improve poor wiper quality by cleaning the wiper blades and the windshield. Replace the wiper blades at least annually for optimum performance. Switch your vehicle ignition on and off to move the wiper arm to the service position. Lift the wiper arm and then press the wiper blade locking buttons together...
Categories
The intelligent access key must be within 3 ft (1 m) of the door or luggage compartment you intend to lock or unlock.
At a Door
Electronic door handles are on each door. Gently depress the switch inside the exterior door handle to unlock and open the door. An unlock symbol illuminates on the door window trim indicating your vehicle is unlocked.