Lincoln Aviator: Capacities and Specifications - Plug-In Hybrid Electric Vehicle (PHEV) / Engine Oil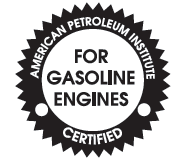 An oil that displays this symbol conforms to current engine, emission system and fuel economy performance standards of ILSAC.
We recommend Motorcraft® motor oil for your vehicle. If Motorcraft® oil is not available, use motor oils of the recommended viscosity grade that meet API SP requirements and display the API Certification Mark for gasoline engines.
Do not use supplemental engine oil additives because they are unnecessary and could lead to engine damage that your vehicle warranty does not cover.
Capacities

Materials

To improve engine cold start performance, we recommend that you use the following alternative engine oil in extremely cold climates, where the ambient temperature reaches -22...
Other information:
Overview The AWD front suspension consists of the following components: Front and rear lower arms Rear lower arm ball joints Stabilizer bar, bushings and links Ride height sensors (Vehicles with Continuously Controlled Damping (CCD) Suspension) Passive or dynamically controlled shock absorber and spring assembly (Continuously Controlled Damping (CCD)) Upper control arms Wheel bearings and wheel hubs Wheel knuckles Wheel studs The front suspension uses a double ball joint short long arm suspension system...
Removal NOTE: DSM (driver front seat module) shown, SCMB (front passenger seat control module) is similar. NOTE: Removal steps in this procedure may contain installation details. All vehicles NOTE: This step is only necessary when installing a new component...
Categories
The intelligent access key must be within 3 ft (1 m) of the door or luggage compartment you intend to lock or unlock.
At a Door
Electronic door handles are on each door. Gently depress the switch inside the exterior door handle to unlock and open the door. An unlock symbol illuminates on the door window trim indicating your vehicle is unlocked.