Lincoln Aviator: Climate Control System - General Information / General Procedures - Air Conditioning (A/C) Compressor Leak Detection - Vehicles With: R1234YF Refrigerant
Special Tool(s) / General Equipment
Air Conditioning Service Unit
Electronic Leak Detector
Air Conditioning Adaptor Kit
Leak detection
Recover the refrigerant. Refer to Air Conditioning (A/C) System Recovery, Evacuation and Charging procedure in Group 412.

Disconnect the refrigerant lines from the A/C compressor. Refer to the appropriate section in Group 412 for the procedure.

Install the adapters from the A/C Flush Adapter Kit on the ports of the A/C compressor, using the existing retaining bolts.


219-00082 ACF-3000 33PC Adapter Kit - Revised 1st released 44pc kit


219-00083 A/C Flushing Adapter Kit 2 of 3 (Previously "Supplement A", 2nd released kit)


219-00084 A/C Flushing Adapter Kit 3 of 3
Use the General Equipment: Air Conditioning Adaptor Kit
Connect the high and low pressure lines of the air conditioning service unit to the corresponding fittings on the adapter.


199-FFX1234 Flo Dynamics R1234yf A/C Refrigerant Management Center
Use the General Equipment: Air Conditioning Service Unit
Charge the A/C compressor following the air conditioning service unit instructions. Open the low pressure valve, the high pressure valve and set the refrigerant charge amount to 0.23 kg (8 oz).

NOTE: Use a Rotunda-approved Electronic Leak Detector for R-1234yf refrigerant SAE Certified to J2913.

Using the Refrigerant Leak Detector, check for leaks at the compressor shaft.


023‐22791 Robinair Infrared A/C Refrigerant Leak Detector w/Case
Use the General Equipment: Electronic Leak Detector
When the leak test is complete, recover the refrigerant from the compressor.

If an external leak is found, install a new A/C compressor.

Categories
The front outboard and rear safety restraints in the vehicle are combination lap and shoulder belts.
Insert the belt tongue into the proper buckle (the buckle closest to the direction the tongue is coming from) until you hear a snap and feel it latch. Make sure that you securely fasten the tongue in the buckle.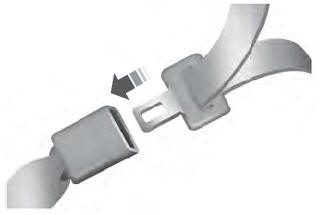 To unfasten, press the release button and remove the tongue from the buckle.