Lincoln Aviator: Intake Air Distribution and Filtering - 3.0L EcoBoost/3.0L EcoBoost – Hybrid (BQ) / Removal and Installation - Air Cleaner
Removal
NOTICE: The turbocharger compressor vanes can be damaged by even the smallest particles. When removing any turbocharger or engine air intake system component, ensure that no debris enters the system. Failure to do so may result in damage to the turbocharger.
NOTE: Removal steps in this procedure may contain installation details.
Disconnect the IAT sensor electrical connector.


Detach the clip.


Detach electrical wire clips.


Loosen the clamps and position the air cleaner outlet pipes LH and RH aside.
Torque: 44 lb.in (5 Nm)

Dislodge and relocate the air cleaner intake pipe.

Remove the nut.
Torque: 80 lb.in (9 Nm)

Detach and remove the air cleaner from the isolators.

Installation
Inspect the turbocharger or engine air intake system components and clean, if necessary.

To install, reverse the removal procedure.

Categories
When the child safety locks are set, you cannot open the rear doors from the inside.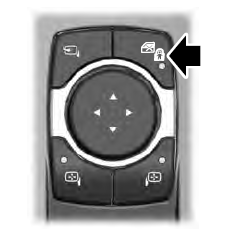 The child safety lock control is on the driver door.
Press the control to switch the child safety locks on. Press the control again to switch them off. A light on the child safety control illuminates when you switch them on.