Lincoln Aviator: Navigation (If Equipped) / Route Guidance
Turn indicator. Select to hear the last voice prompt.
Point of interest.
Estimated time of arrival, distance to destination or time to destination.
Current road.
Mute guidance prompts.
Note: To change guidance prompt volume, turn the volume control when a guidance prompt plays.
Route Guidance Menu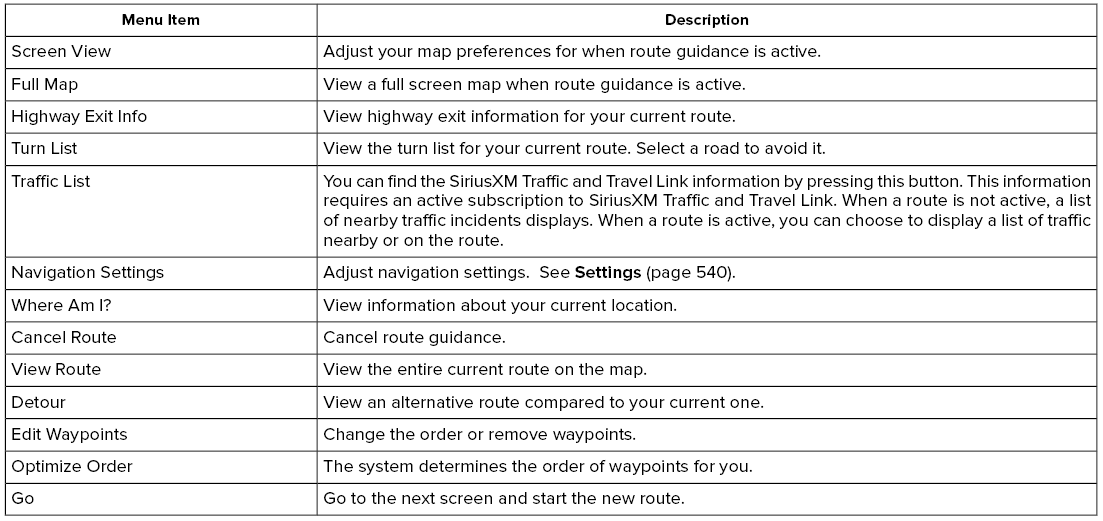 Adjusting the Guidance Prompt Volume
Turn the volume control when a guidance prompt plays to adjust the volume.
Note: If you have inadvertently adjusted the volume to zero, press the turn indicator button to play the last voice prompt and then adjust the volume to the desired level.
Muting Guidance Prompts

Select the mute option on the screen to mute guidance prompts.
Note: The system mutes the next and all future guidance prompts.
Adding Waypoints
You can add a waypoint to a navigation route as a destination along your route. You can add up to five waypoints.
Select the search option on the map.
Set a destination.
Select Add Waypoint.
Select Go.
Canceling Route Guidance

Select the route guidance menu option on the active guidance screen.
Select Cancel Route.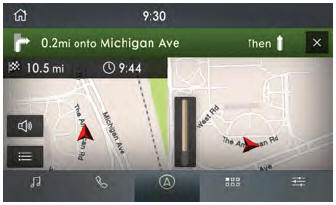 Note: The route guidance menu option is always in the bottom right-hand corner of the main map.
cityseeker (If Equipped)
Note: cityseeker point of interest (POI) information is limited to approximately 1,110 cities (1,049 in the United States, 36 in Canada and 15 in Mexico).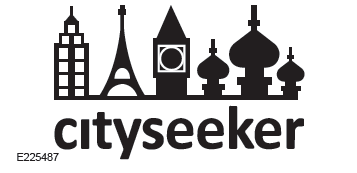 cityseeker, when available, is a service that provides more information about certain points of interest such as restaurants, hotels and attractions.
When you have selected a point of interest, the location and information appear, such as address, phone number and a star rating.
Press More Information to see a photo, a review, a list of services and facilities, the average room or meal price and the web address. This screen displays the point of interest icons.
For restaurants, cityseeker can provide information such as star rating, average cost, review, handicap access, hours of operation, and website address.
For hotels, cityseeker can provide information such as star rating, price category, review, check-in and checkout times, hotel service icons and website address. Hotel service icons include:
Restaurant
Business center
Handicap facilities
Laundry
Refrigerator
24 hour room service
Fitness center
Internet access
Pool
Wi-Fi
Attractions include nearby landmarks, amusement parks, historic buildings and more. cityseeker can provide information such as star rating, reviews, hour of operation and admission price.