Lincoln Aviator: Tire Care / Tire Rotation
WARNING: If the tire label shows different tire pressures for the front and rear tires and the vehicle has a tire pressure monitoring system, then you need to update the settings for the system sensors. Always perform the system reset procedure after tire rotation. If you do not reset the system, it may not provide a low tire pressure warning when necessary.
Note: If your tires show uneven wear, ask an authorized dealer to check for and correct any wheel misalignment, tire imbalance or mechanical problem involved before tire rotation.
Note: Your vehicle may be equipped with a dissimilar spare wheel and tire assembly. A dissimilar spare wheel and tire assembly is defined as a spare wheel and tire assembly that is different in brand, size or appearance from the road tires and wheels. If you have a dissimilar spare wheel and tire assembly, it is intended for temporary use only and should not be used in a tire rotation.
Note: After having your tires rotated, inflation pressure must be checked and adjusted to the vehicle requirements.
Rotating your tires at the recommended interval will help your tires wear more evenly, providing better tire performance and longer tire life. Sometimes irregular tire wear can be corrected by rotating the tires.
A bad jolt from hitting a curb or pothole can cause the front end of your vehicle to become misaligned or cause damage to your tires. If your vehicle seems to pull to one side when you are driving, the wheels may be out of alignment...
Other information:
Note: Do not exceed the trailer weight for your vehicle configuration listed in the chart below. Note: Be sure to take into consideration trailer frontal area. Do not exceed 55 ft² (5.11 m²) if your vehicle can tow a class III trailer. Note: Your vehicle could have reduced performance when operating at high altitudes and when heavily loaded or towing a trailer...
Symptom Chart D Clutch For D clutch operation, REFER to: D Clutch (307-01A Automatic Transmission - 10-Speed Automatic Transmission – 10R60, Description and Operation). D Clutch Condition Possible Sources Action D clutch does not apply SSD mechanically stuck OFF INSTALL a new solenoid...
Categories
WARNING: Do not adjust the steering wheel when your vehicle is moving.
Note: Make sure that you are sitting in the correct position.
Unlock the steering column. Adjust the steering wheel to the desired position.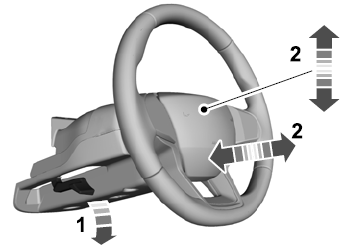 Lock the steering column.